Complete Excel Foundation Course
Master fundamentals of Excel without the overwhelm with step-by-step tutorial videos. Covers Formulas, Functions, Pivot Table, Conditional Formatting and more.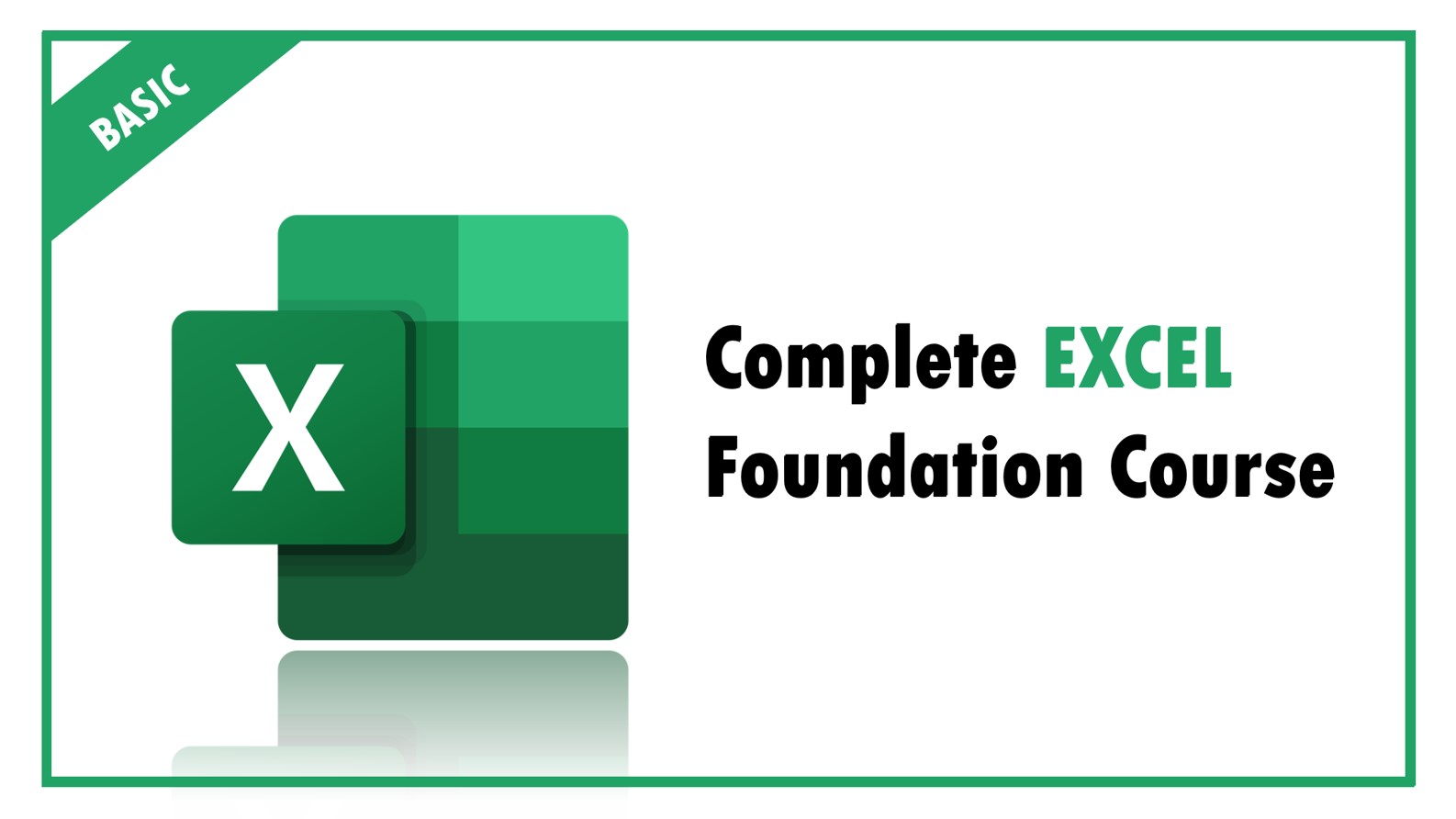 What this Course Covers:
* 15.5 hours of step by step Excel tutorials
* 90 Excel project Files to follow along the video lessons
* Quizzes to review what you learn
* Follow along with any recent version of Excel. Specific Excel 365 features are clearly identified
Get started on this deep-dive course today!
What you will find in this Course:
Click to watch video below:
Comprehensive Training Program on Excel with Step by Step Videos, Exercise Files and Quiz.


What customers are saying about this Excel course:


Explained in very simple language. Easy to understand
Vishal Poddar


I have just started the training course and complete a few of the exercises. I can see, however, that this is going to be nothing short of an awesome program.
James Rapp


I am getting the complete basic knowledge of Excel
Yogiraj Chandratre, Computer Teacher
What others are saying about our Excel tutorials:


Yes, this is one of the best videos on Pivot Tables but beyond that, the way this information is arranged and the method used to convey it is clear and concise. Excellent material presented in an outstanding manner.
Mark Frank


I could not understand Index and Match although I watched many videos, but after watching this video, I'm not going to forget it in my life, this video made it so crystal clear.
Ganesh Prasad T P


Excellent videos !! Have watched so many videos but this one indeed best one and easy to understand with practical knowledge..
Prince Kamboj


Very exciting videos. You have a fabulous talent in Excel. Keep it rolling and sharing, so many more can learn.
Bwebwentekai Bob Kabuati


Well, I wasn't expecting that. I just love clever little tips like this.
Martin Craig


WHY THIS COURSE:


Hi! Welcome to Complete Excel Masterclass for Beginners.
Right up, let me answer the Big question you may have on your mind…


"Why another course on Excel, when there are tons of online excel courses already available, not to mention dozens of books and websites on Excel?"
Fair question.
The answer is… "This course is entertaining and practical – while most Excel courses on the market are boring and bookish".


Let me explain…


There is no dearth of Excel experts in the market - who know the program inside and out.
But, can they teach you the program in a way you can understand and remember?
Can they make the subject simple enough for a beginner like you?
Unfortunately, the answer is 'No'.


That's why I made this course called 'Complete Excel Masterclass for Beginners'.
It's a fun and easy way to master Excel.
The course teaches you all that you need to learn about Excel as a Data professional, without the overwhelm.


WHAT THIS COURSE COVERS:
The course is massive with 15.5 hours of comprehensive video content, yet you'll find that every topic is relevant to your work.


You can find the detailed course content when you scroll down. We purposely left out advanced topics like Excel VBA and Macros in this program, as the course is meant for beginners.


The course is easy to follow. I breakdown complex topics into simple, understandable, and useful lessons. The lessons are short and systematic, so you can easily fit them in your busy work schedule.


Every tool, formula and function in Excel is explained with simple analogies, practical examples, exercises and quizzes. I don't stop at teaching you how to write a formula, I show you where you'd use it in real applications. You can watch some sample lessons from the program to evaluate my teaching style.


By the time you complete this course, you'll feel confident of tackling any work assignment on Excel with ease.
You'll save time on your work projects.


ABOUT ME
I did my MBA from a premier Management Institute in India.
I worked as a Senior Vice President and Head of two functions in a multinational bank.
I've been a professional trainer and an online course creator for the past 12 years.
I've been using Excel for the past 2 decades, and I bring all that experience to this course.


If after going through the course, you find that the content doesn't live up to your expectation, you can ask for a 100% refund within 30 days.
So go ahead, enroll for this course and let's get started with Excel!
Sign Up Now: Complete Excel Masterclass for Beginners
Master fundamentals of Excel without the overwhelm with step-by-step tutorial videos. Covers Formulas, Functions, Pivot Table, Conditional Formatting and more.