Ramgopal's PowerPoint Mastery Program
Easy To Follow, Comprehensive and Creative PowerPoint Training Program.
What our customers are saying:
"The individual modules are clearly laid out and demonstrated in an interesting fashion. It is pitched at the right level and is easy to learn and improve from.
I am doing my best amidst my regular everyday life to go through the Mastery Videos and they are totally inspirational and brilliant."
Rachel Bunger ,
eBook Author
Courses in PowerPoint Mastery Program:
Every trick, technique and process you'll ever need to create result getting, professional looking slides, that you can't wait to show off - even if you are a beginner in PowerPoint...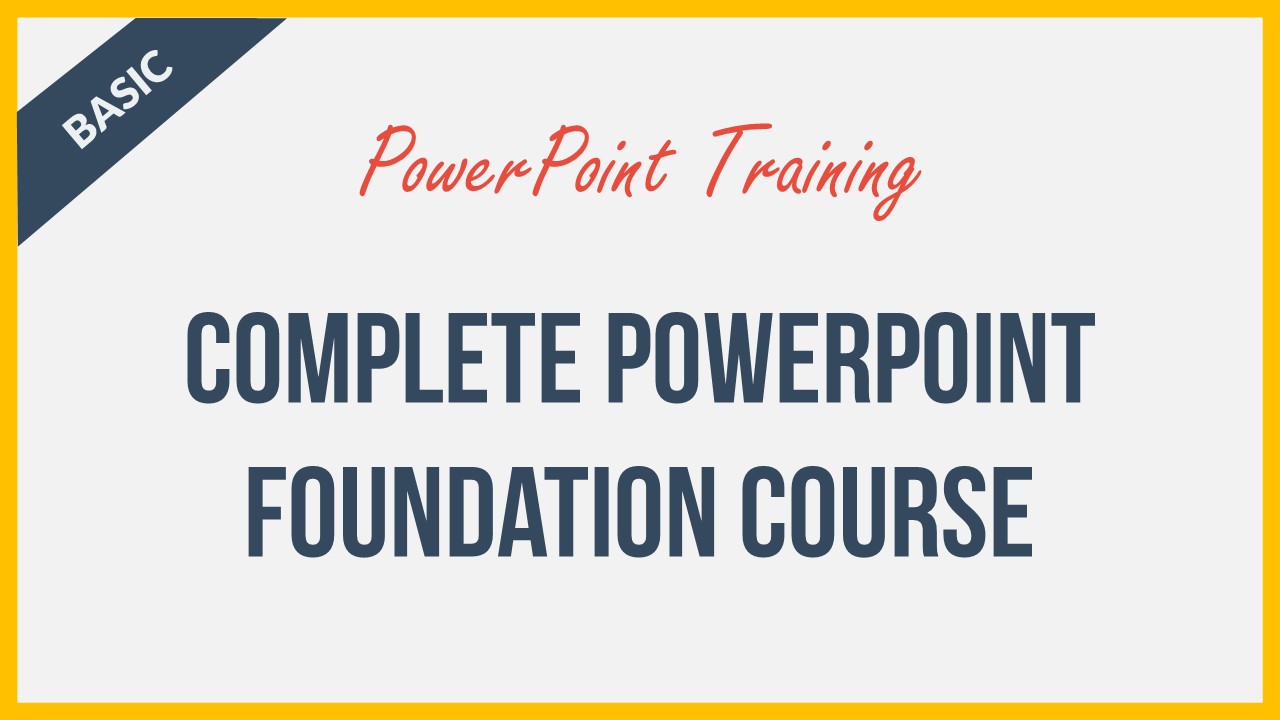 Complete PowerPoint Foundation
Master all PowerPoint Basics in a structured manner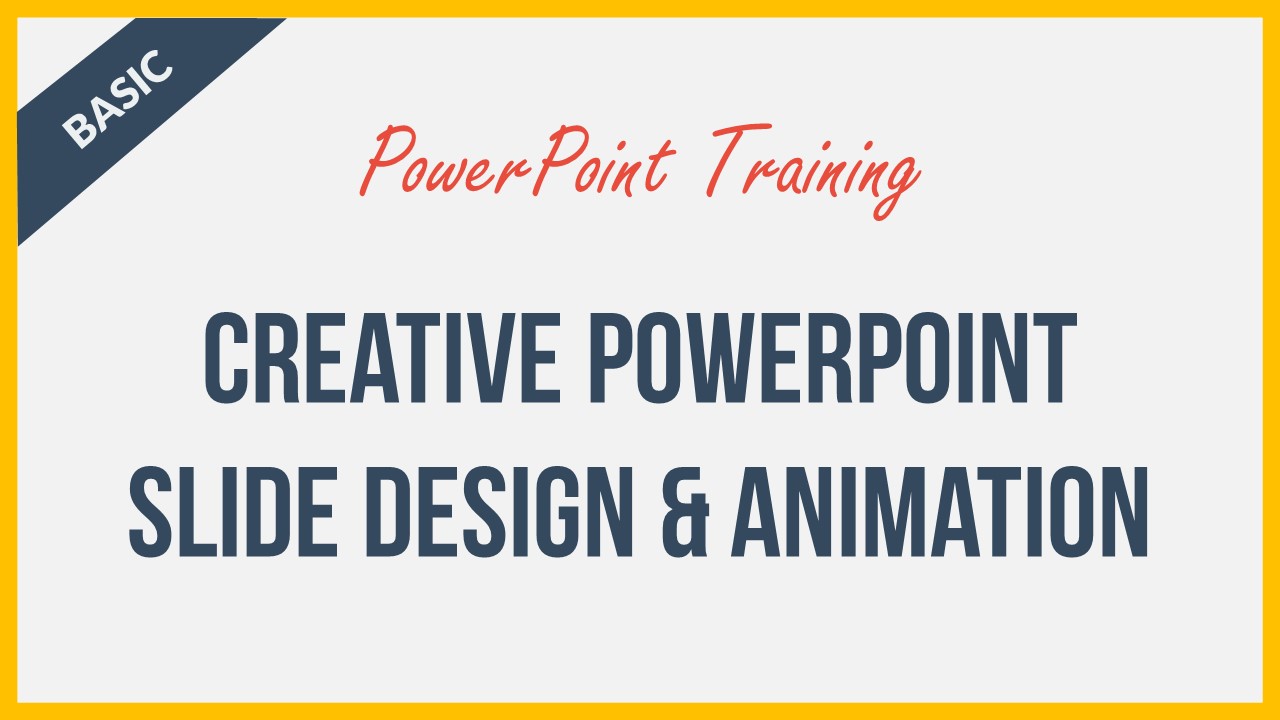 Creative Slide Design & Animation
Design 25 Slides step-by-step from Title to Contact Us slides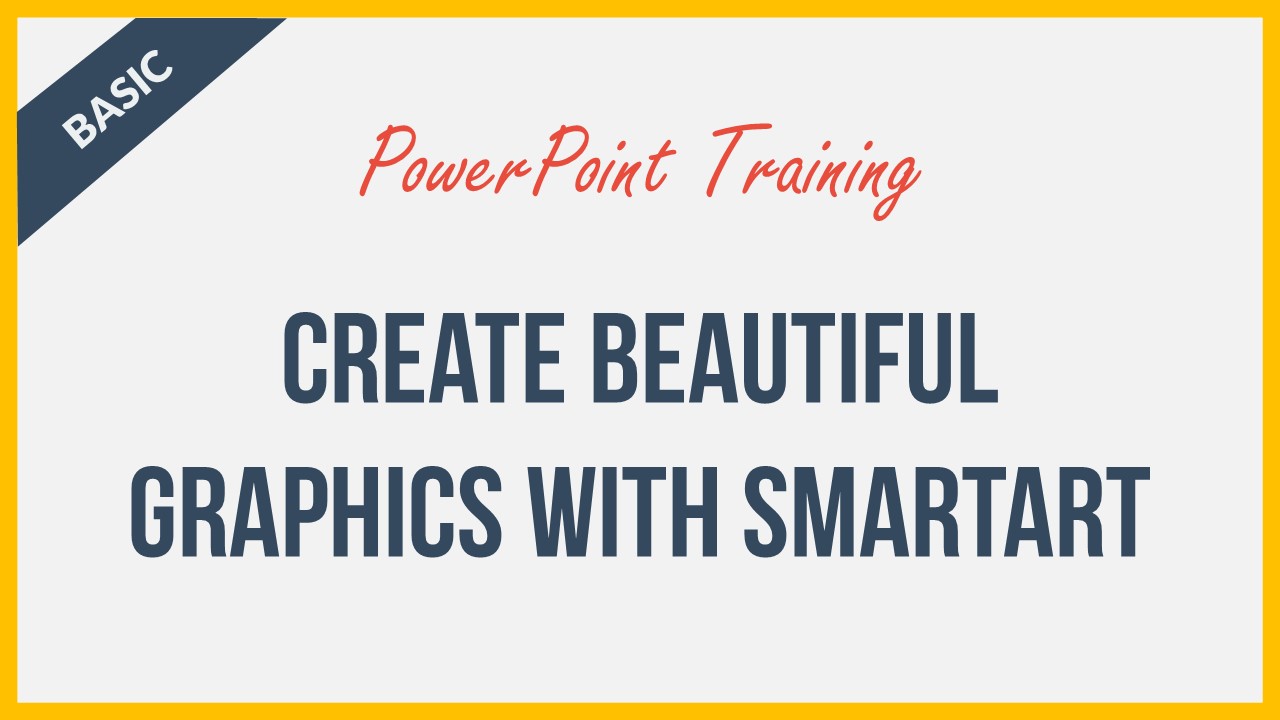 Beautiful Graphics with SmartArt
Master SmartArt tool and go beyond the default tools & settings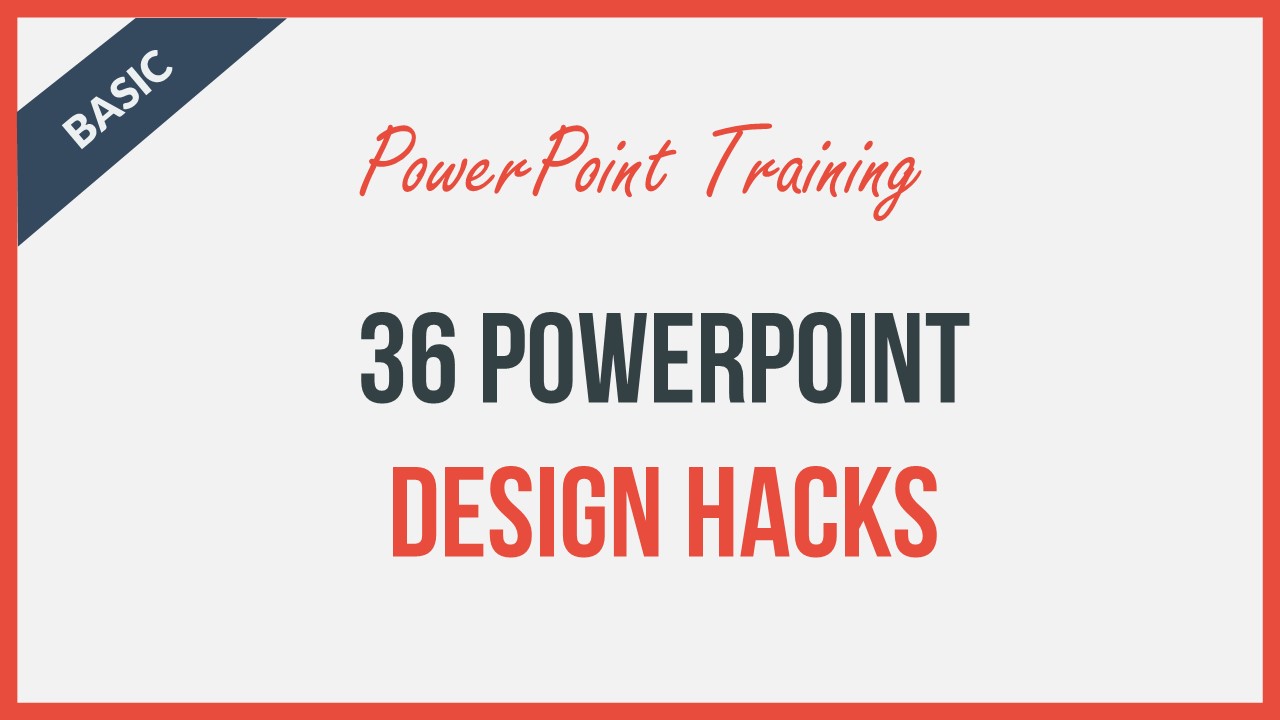 36 Hacks for Professional Slides
Tips & tricks for color, font, layouts, charts & more to create professional slides faster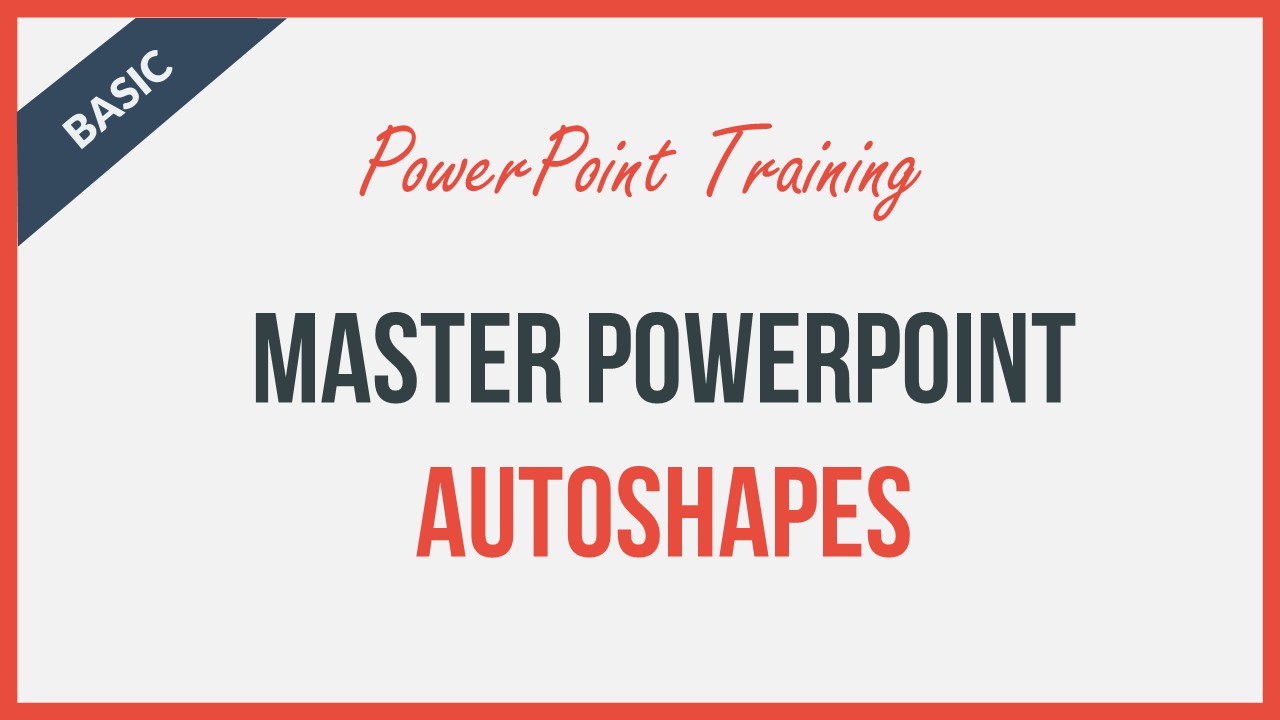 Master Basics of Shapes Tool
Get started with designing your diagrams by Mastering the Autoshapes tool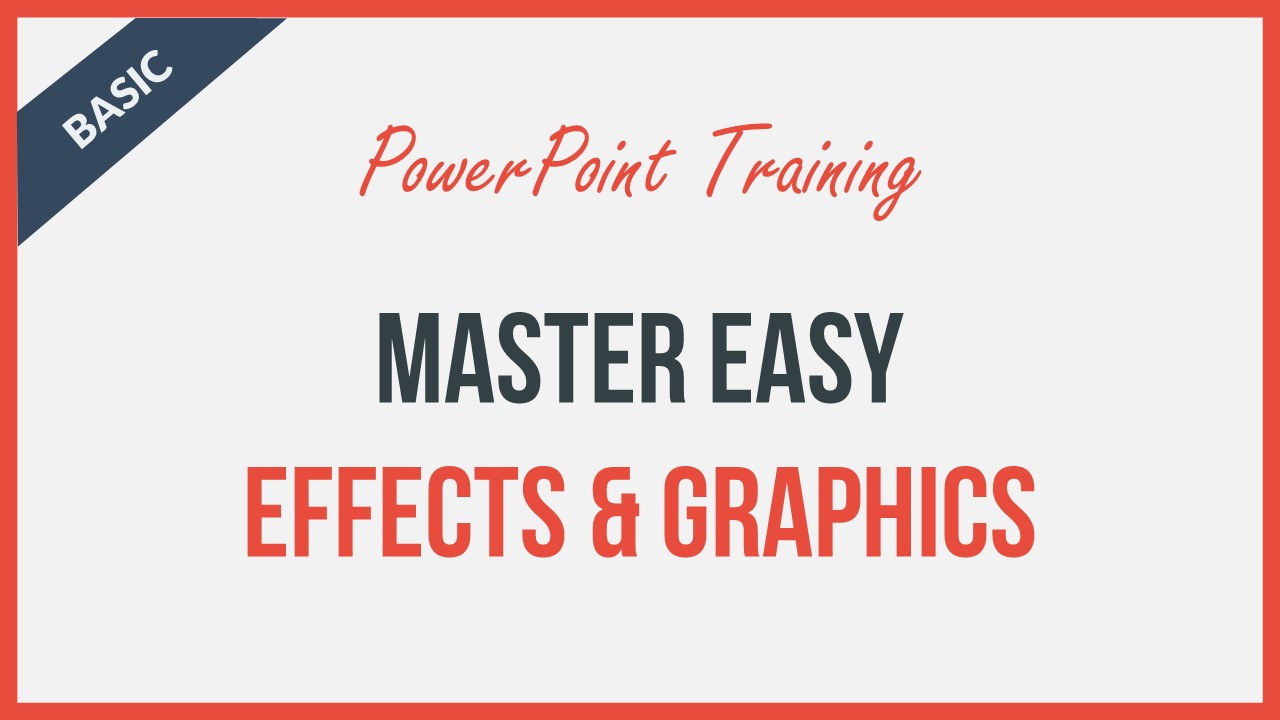 Easy PowerPoint Effects & Graphics
Create Easy Effects and design Basic Graphics like Ribbons, Tags, Text Placeholders & more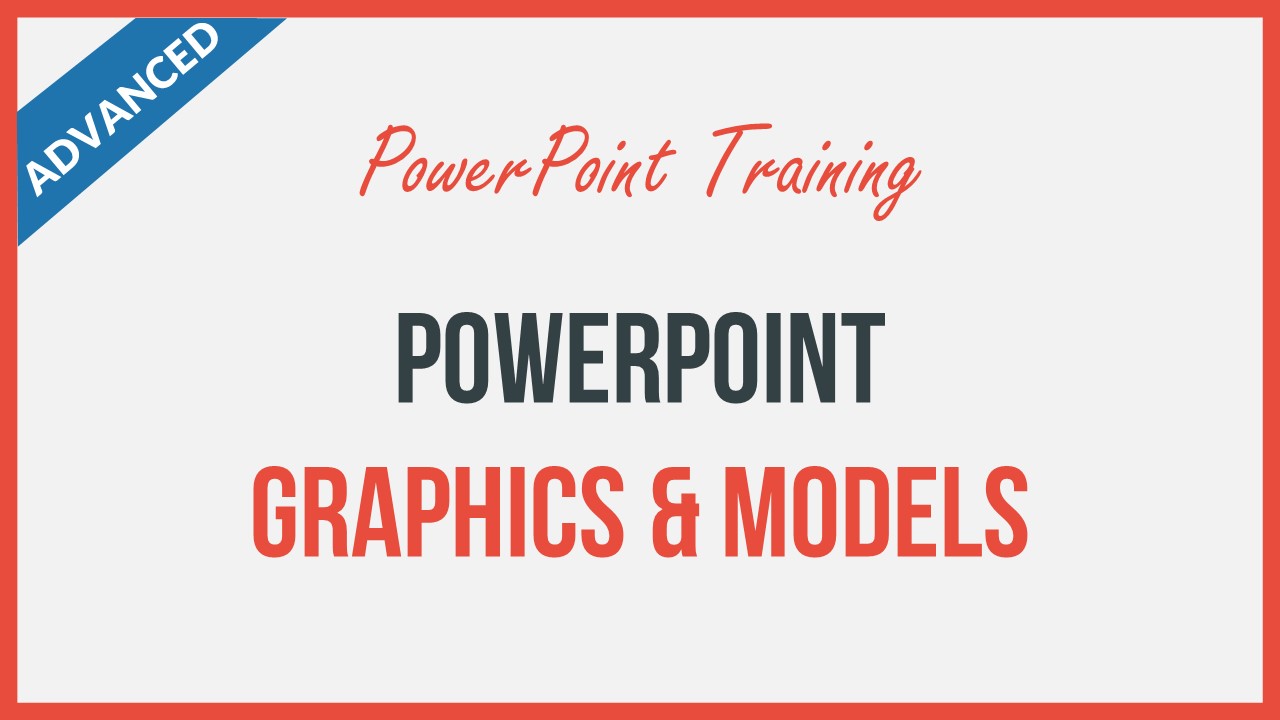 Advanced Graphics & Models
Design Advanced Graphics and Models - Timelines, Process Diagrams and more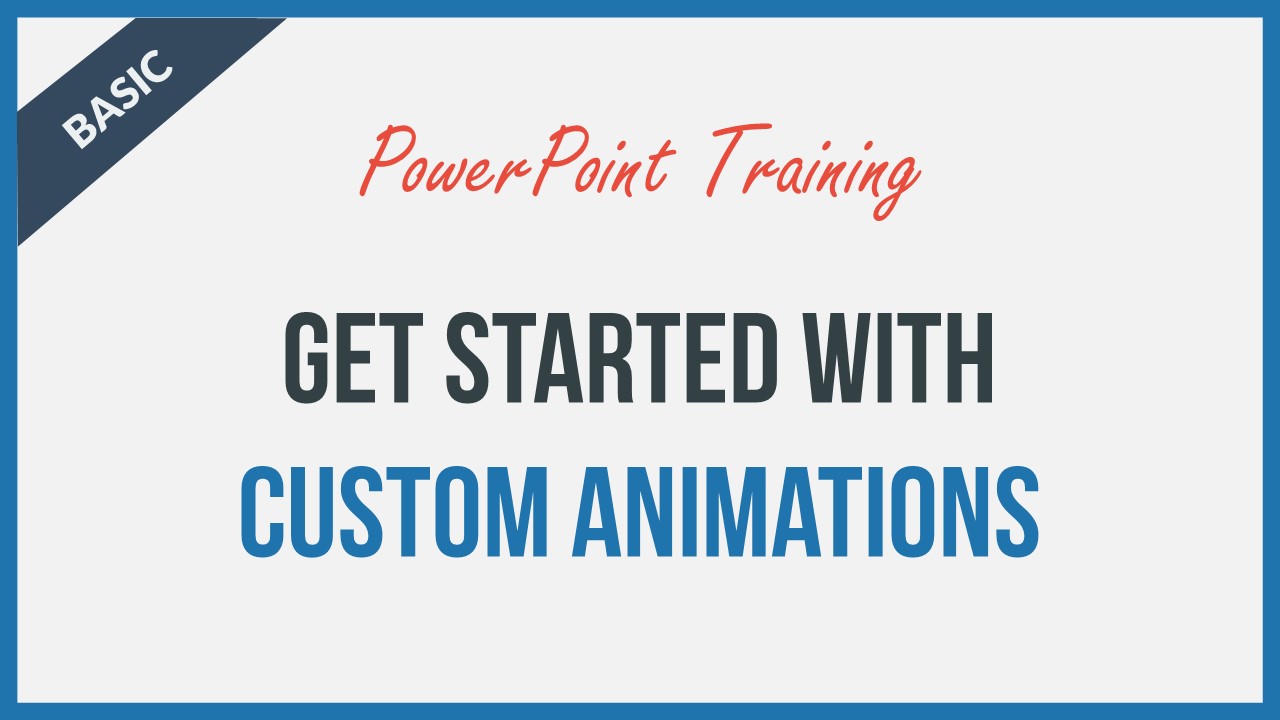 Basics of Custom Animations Tool
Master the basic tools, panels and features of custom animations in PowerPoint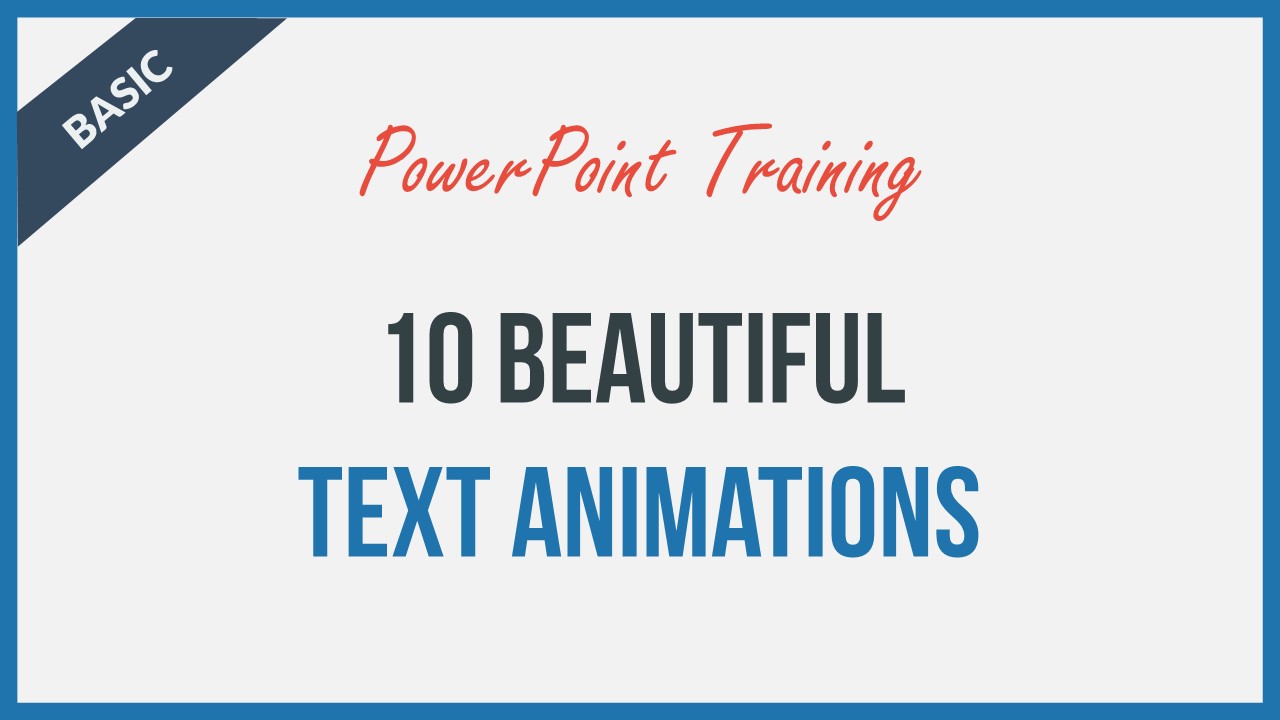 10 Beautiful Text Animations
Get creative ideas and step by step tutorials to animate your text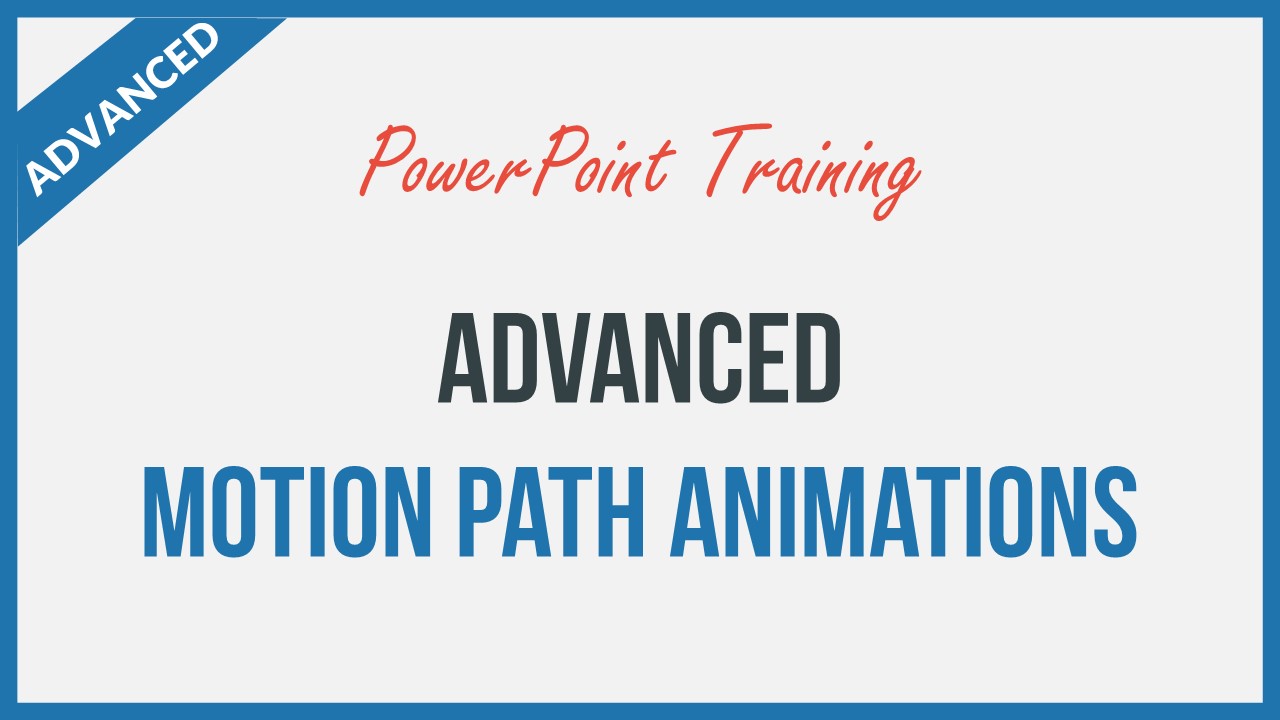 Advanced Motion Path Animations
Design creative animations with advanced tools & effects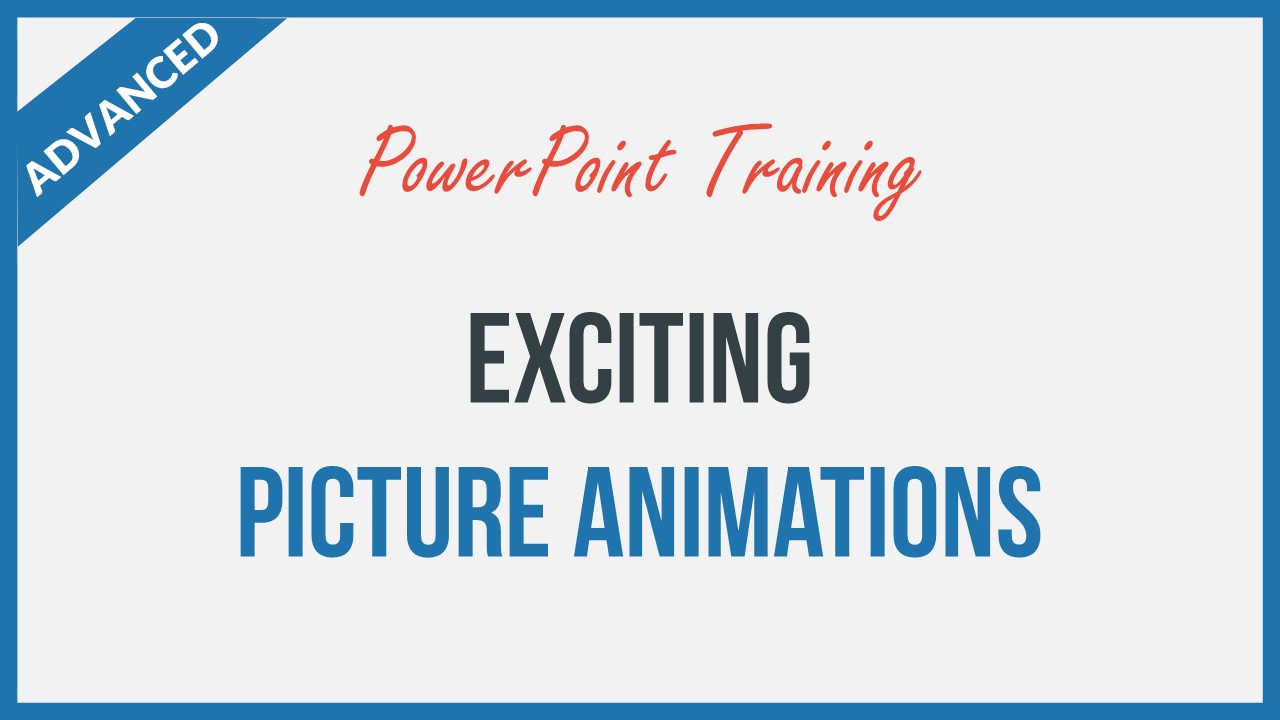 Photos with Creative Animations
Present your product photos, albums, team intros and more with creative animations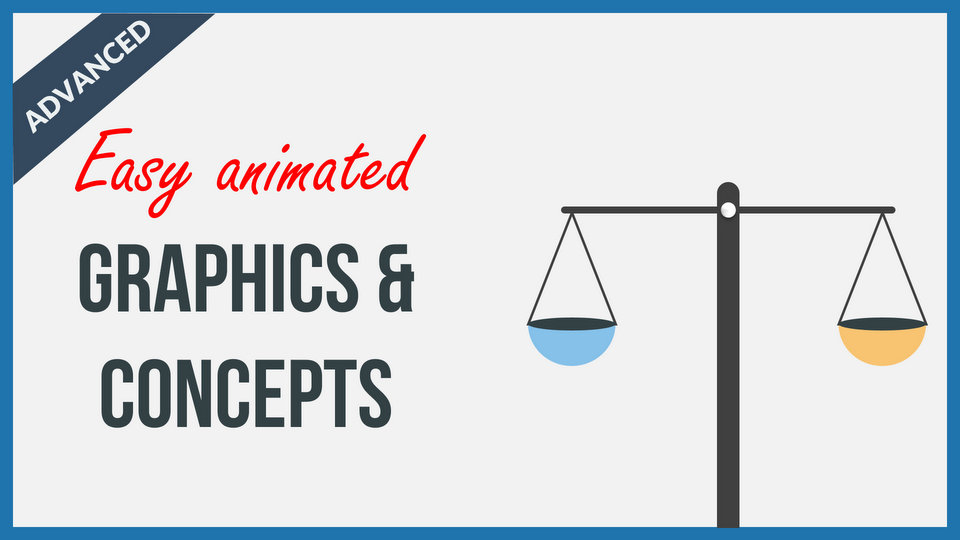 Animated Graphics & Concepts
Step by step tutorials to create advanced graphics like roadmaps & concepts like scales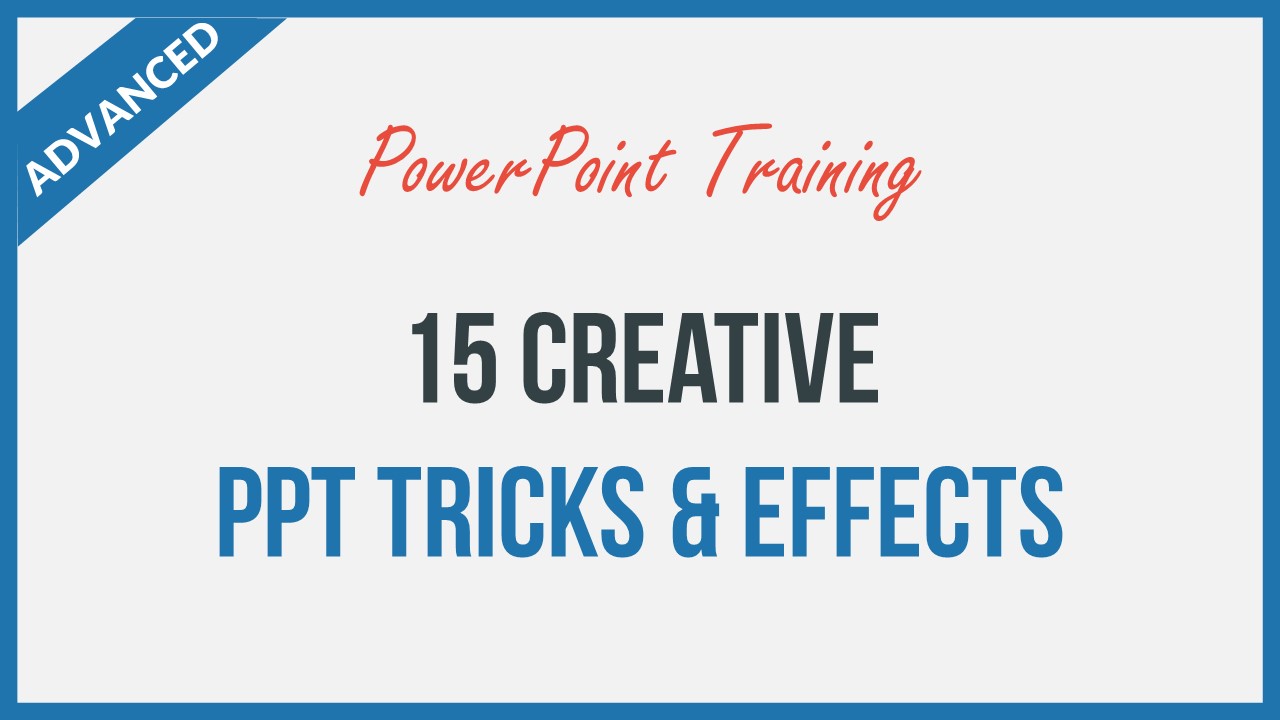 15 Animation Tricks & Effects
Learn Advanced tricks to create effects like clocks, countdowns and more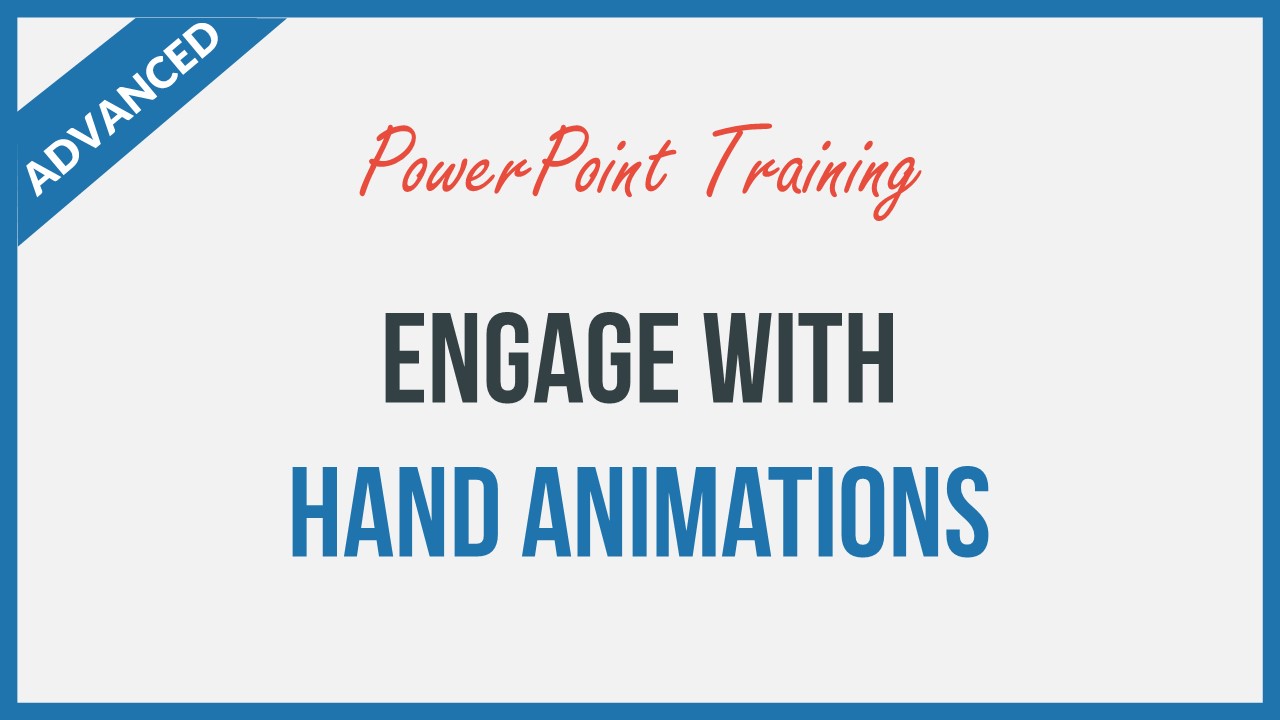 Advanced Hand Animations
Create Videoscribe Style effect for your videos & informational content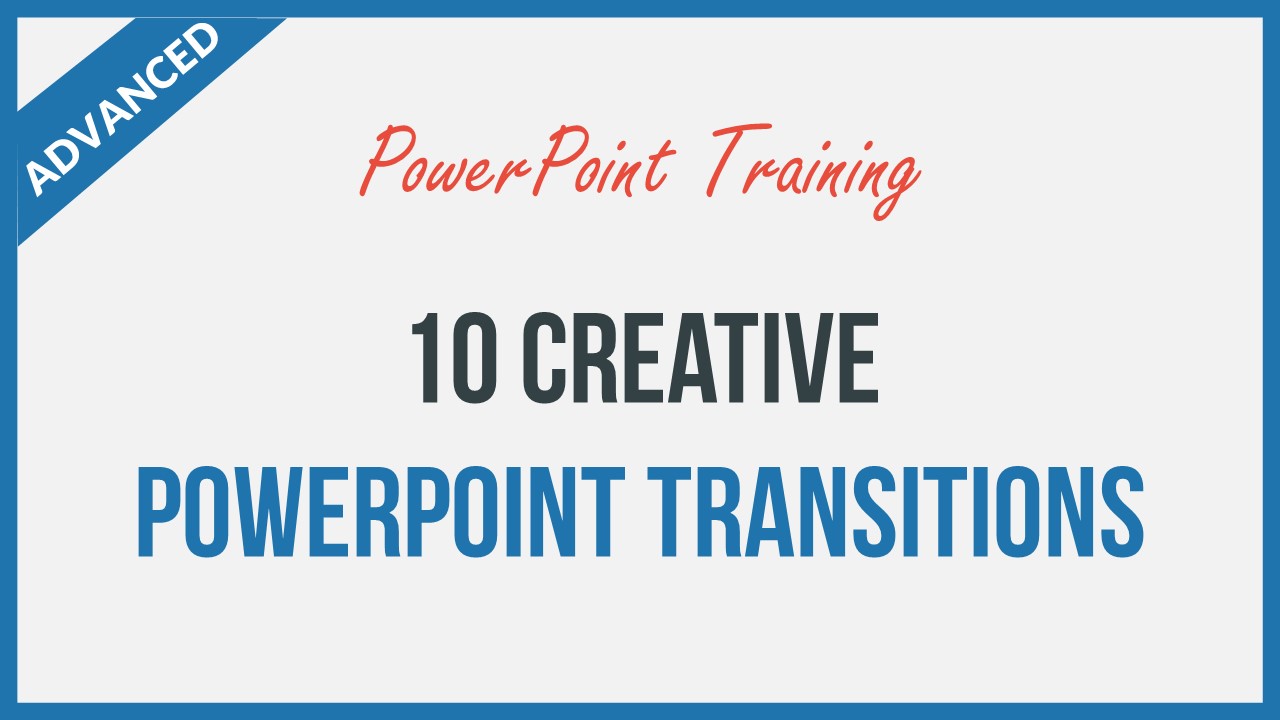 Advanced Transition Effects
Get ideas to creatively use transitions like animations.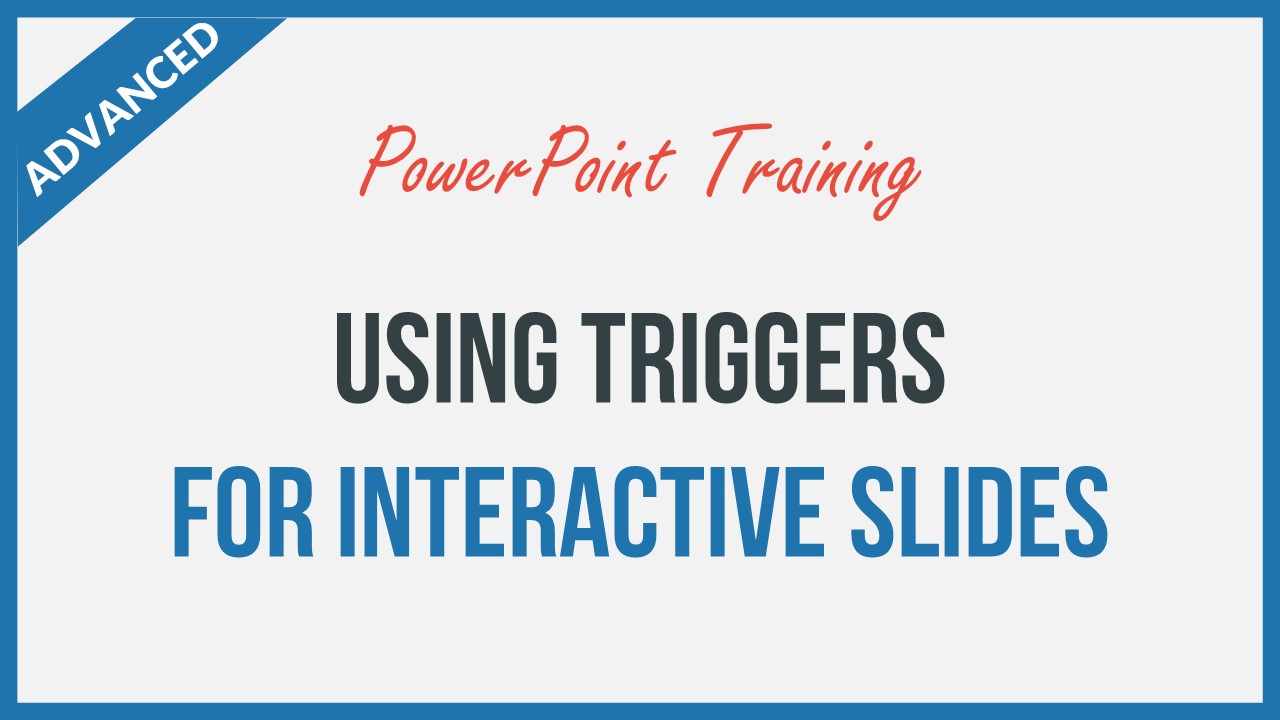 Interactive PPTs with Triggers
Engage your audience with interactive slides that work on mouse click.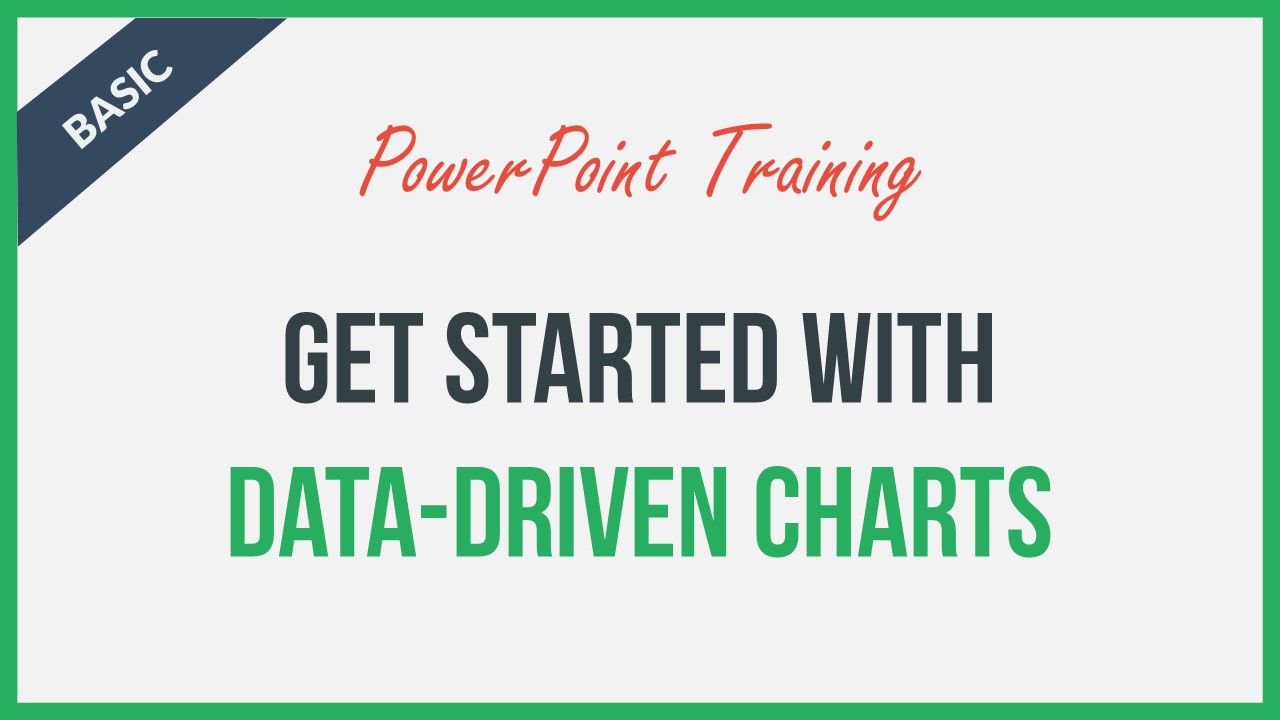 Get Started with Data Driven Charts & basic Chart Formatting Tools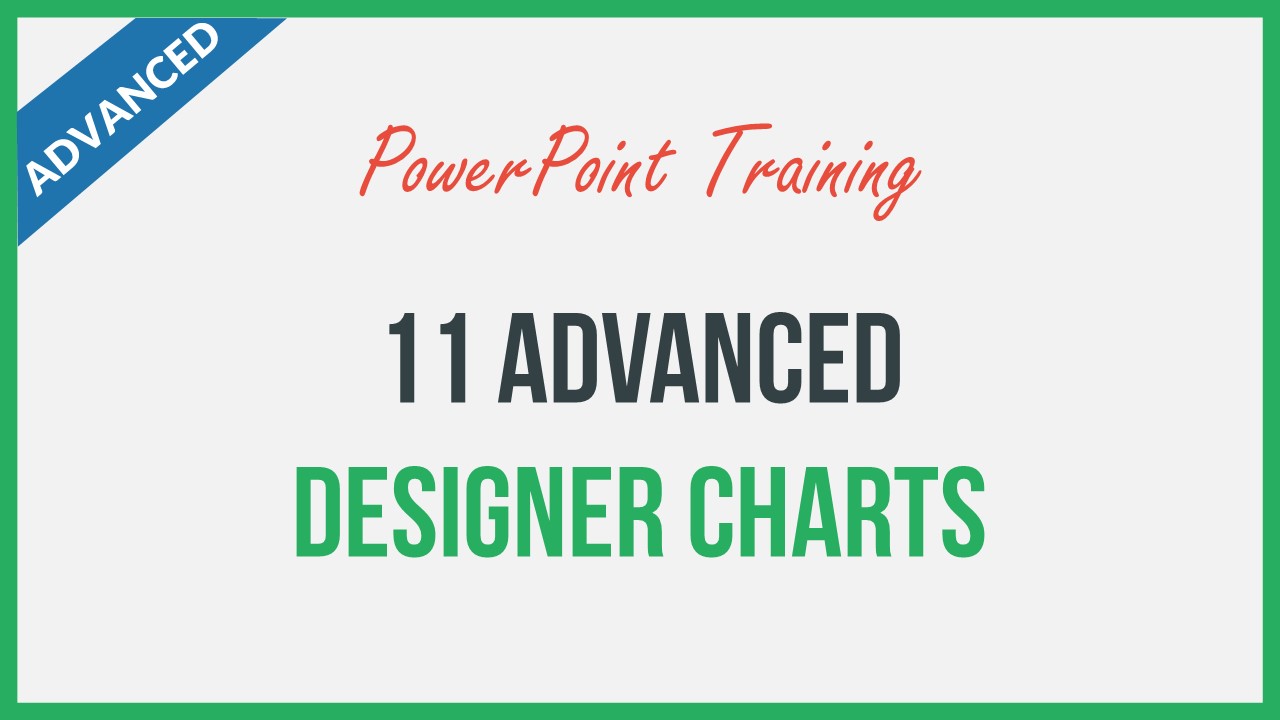 Master the advanced features of PowerPoint to create designer charts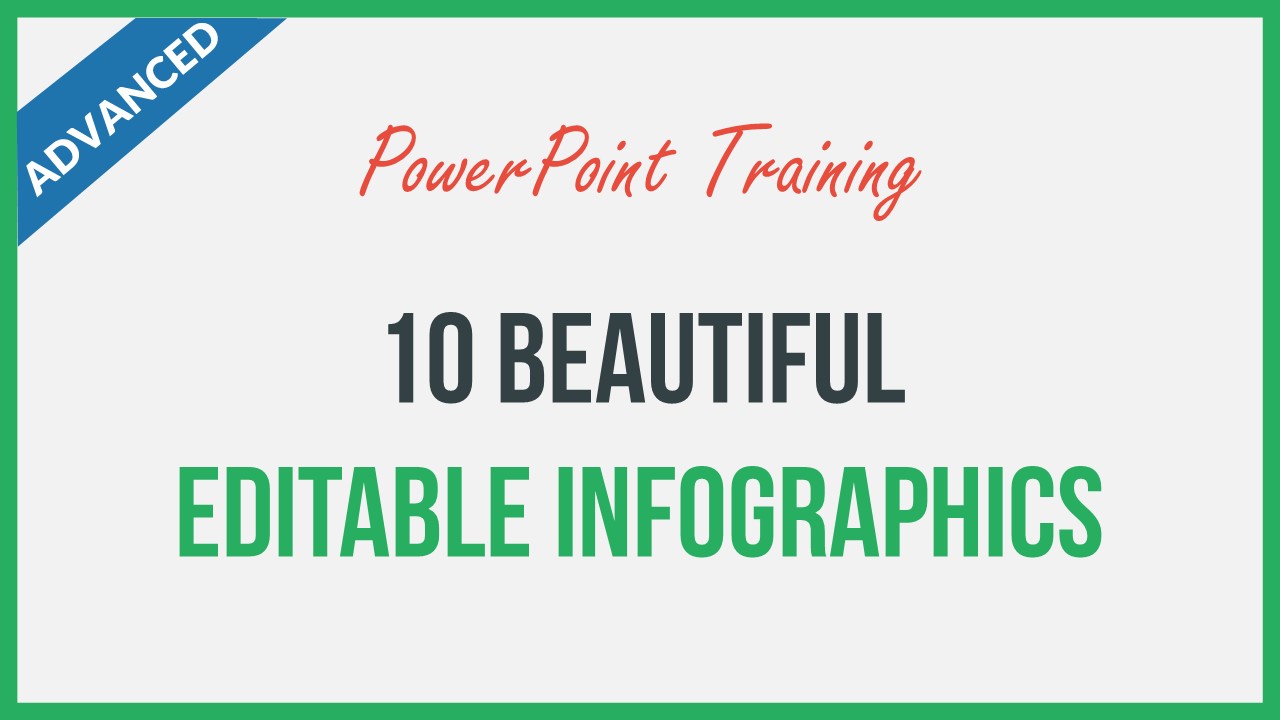 Advanced: Editable Infographics
Create custom dashboards to present your information with infographics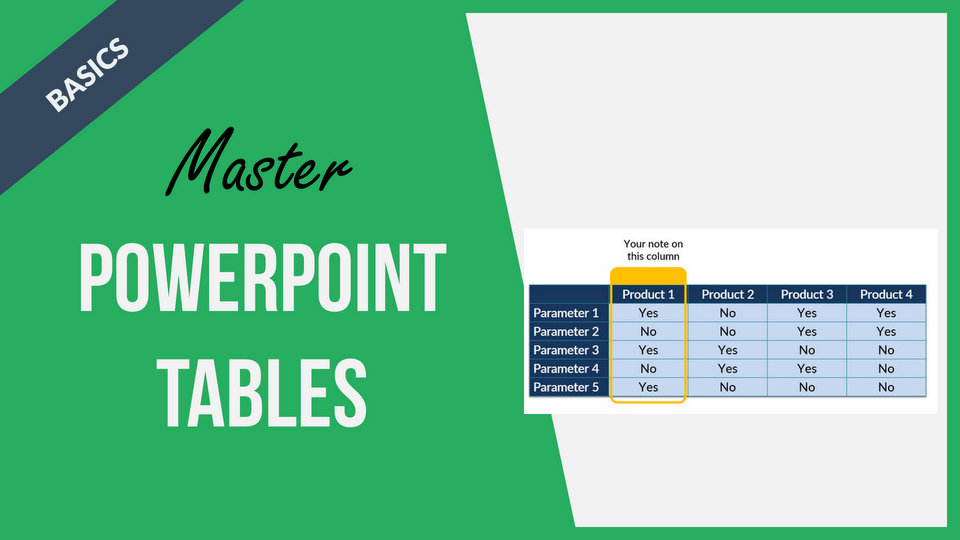 Basic & Advanced: Tables
Master basics features like working & formatting cells. Find creative ideas like animating a table.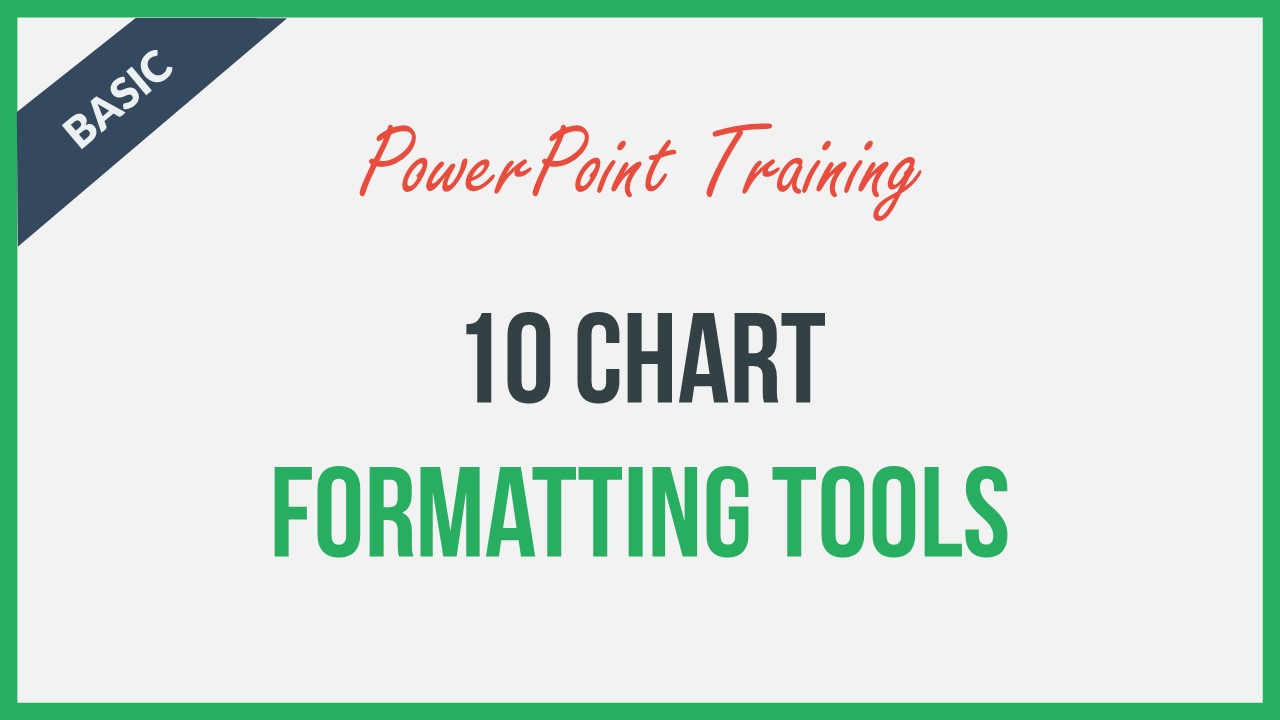 10 Chart Formatting Tools
Discover chart formatting tools that most presenters are not aware of.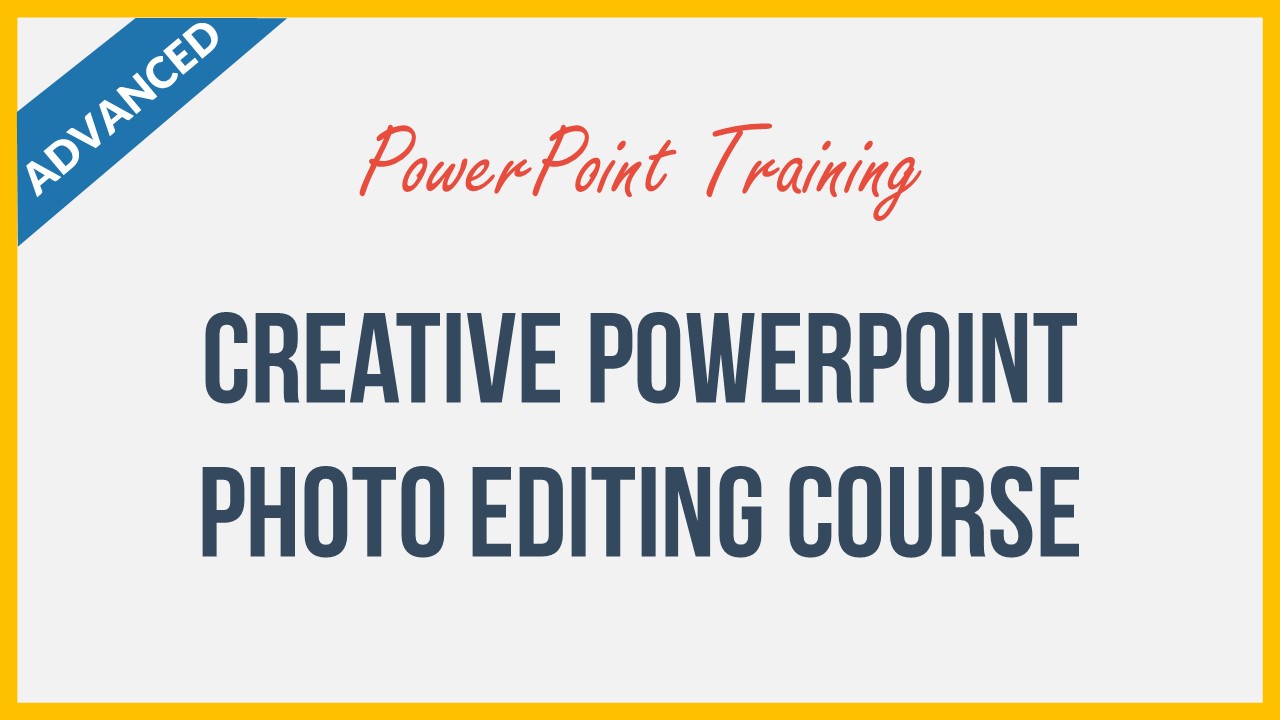 Creative Photo Editing Course
Edit your photos in PowerPoint like a Pro. No need to use Photoshop!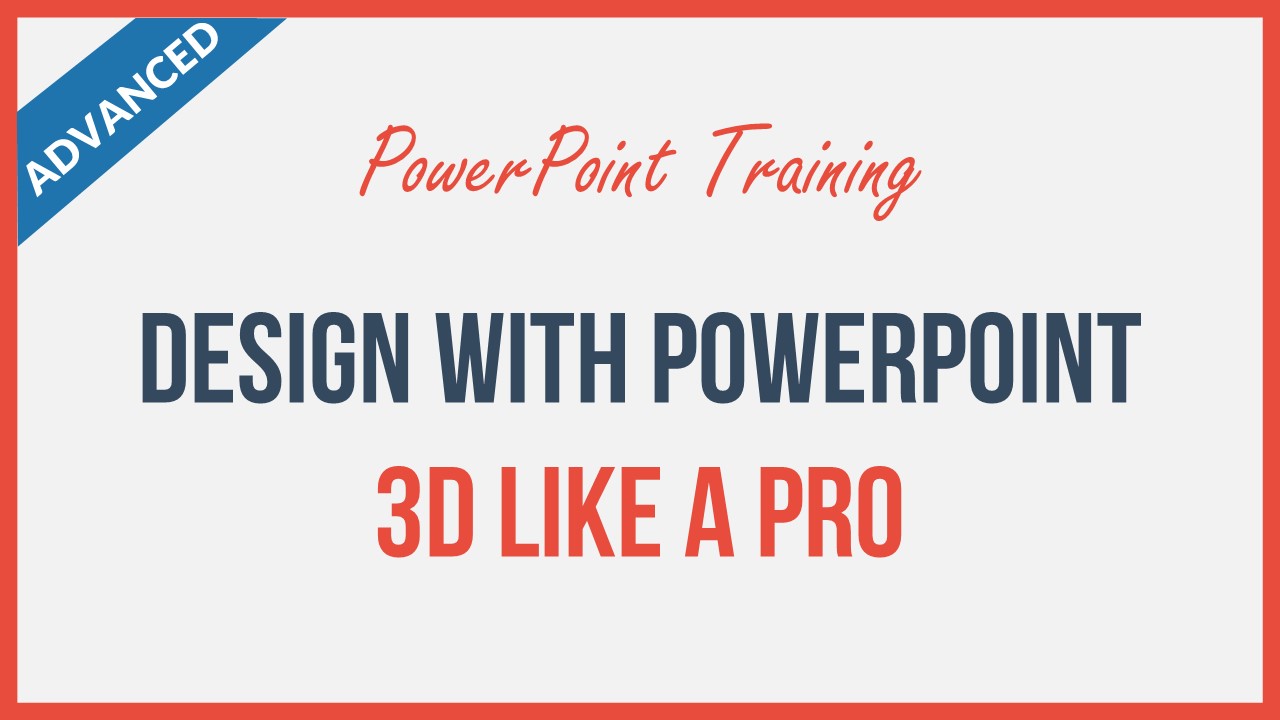 Design with 3D like a PRO
Learn 3D tools in PowerPoint and design different diagrams to master the tools.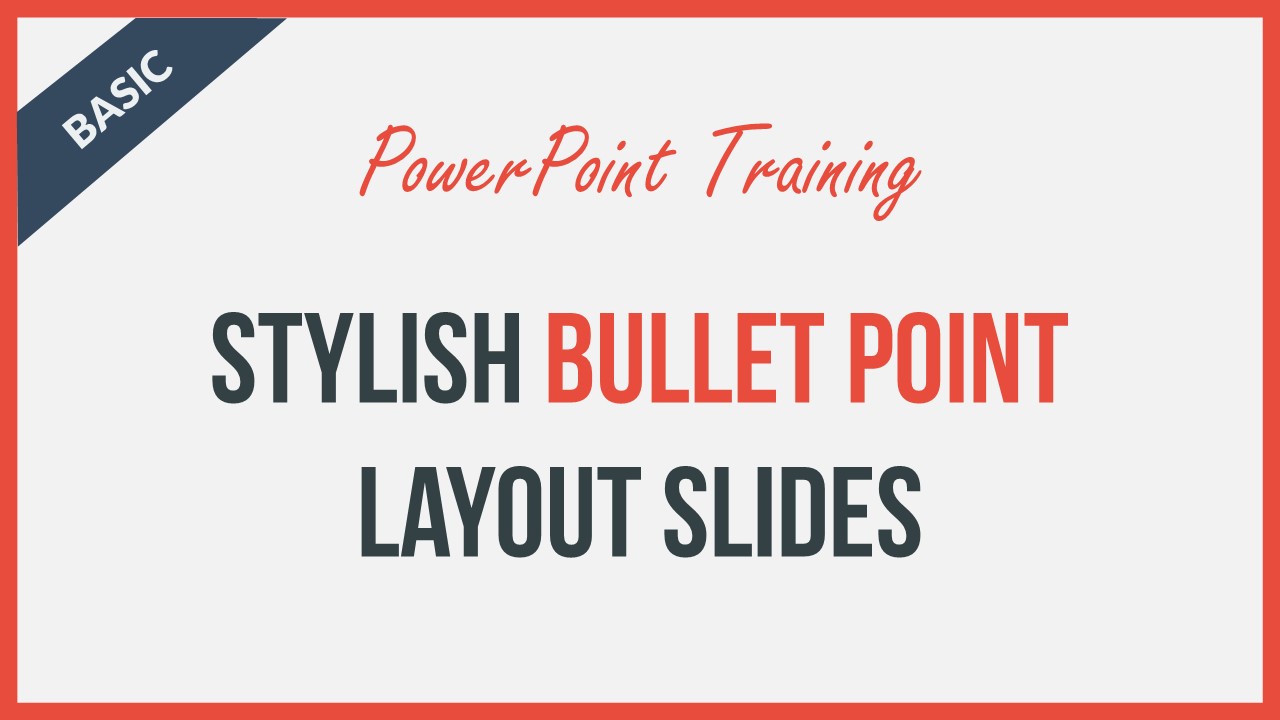 9 Tutorials to Present Bullet Points
Step by step tutorials to design easy alternatives to boring bullet point lists
PLUS These Bonus Courses: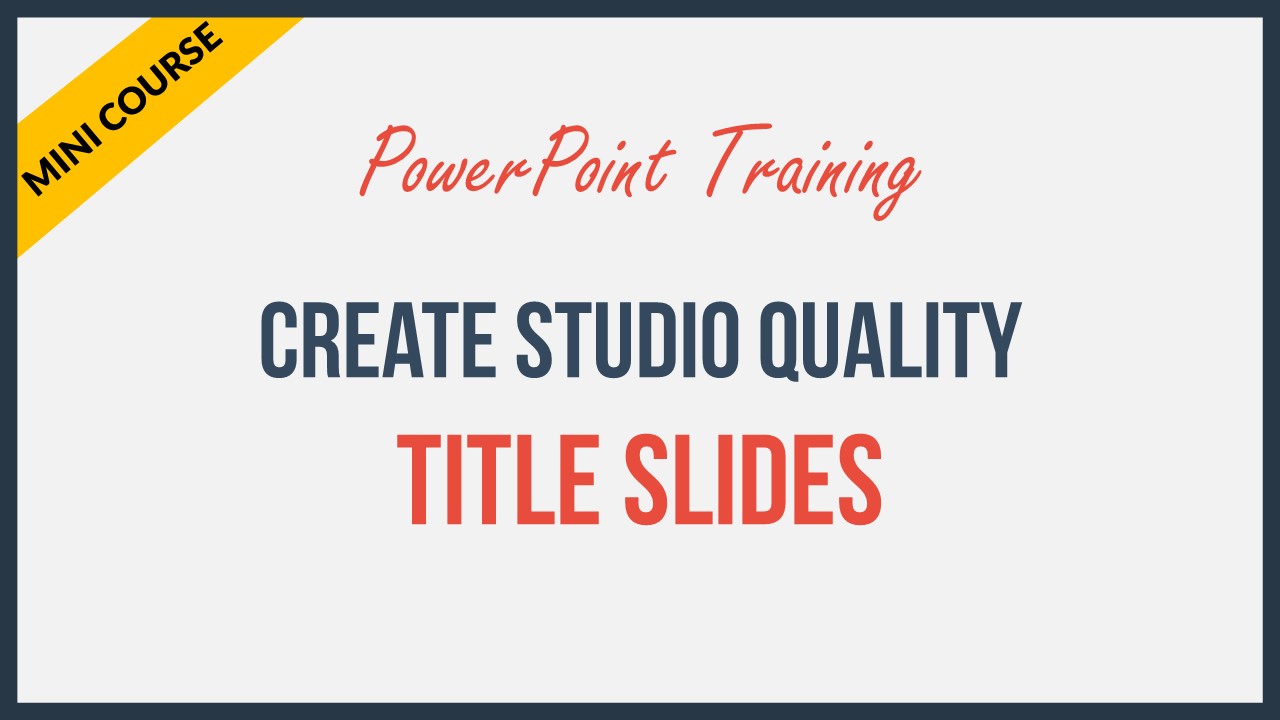 Design Studio Quality Title Slides
Step by step tutorial to create title slides, plus templates you can use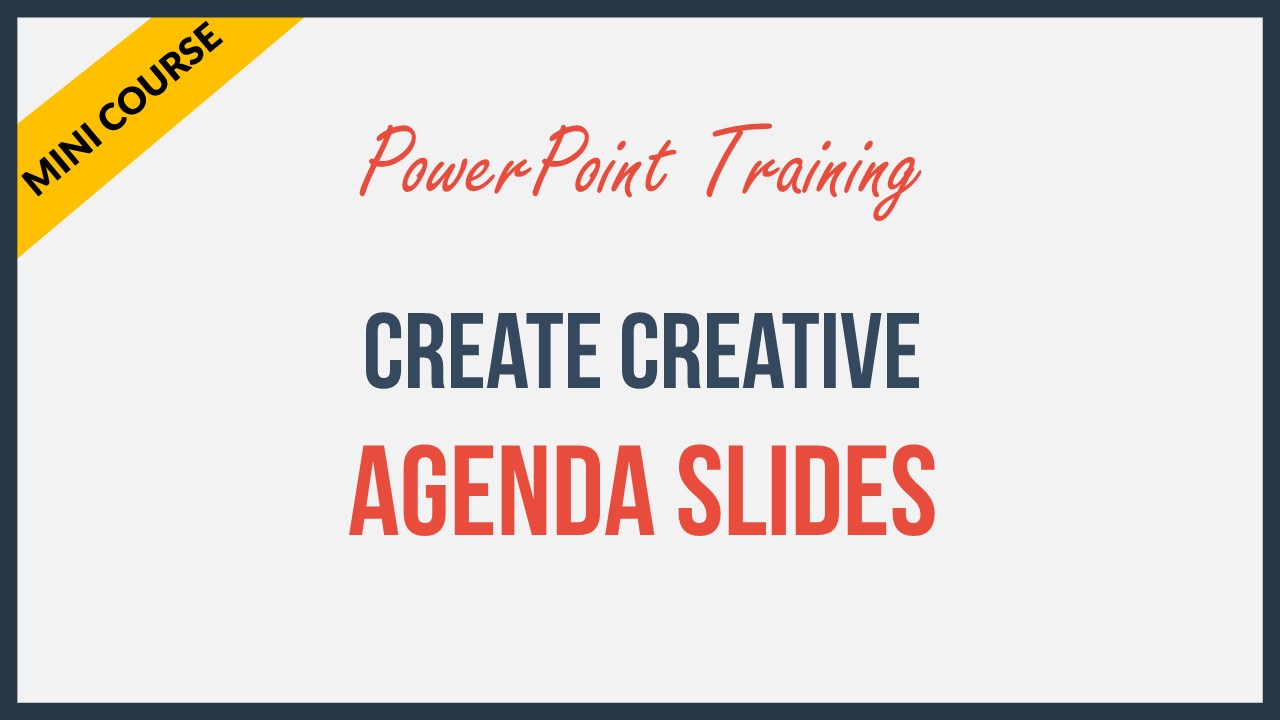 Learn how to create and present creative agenda slides.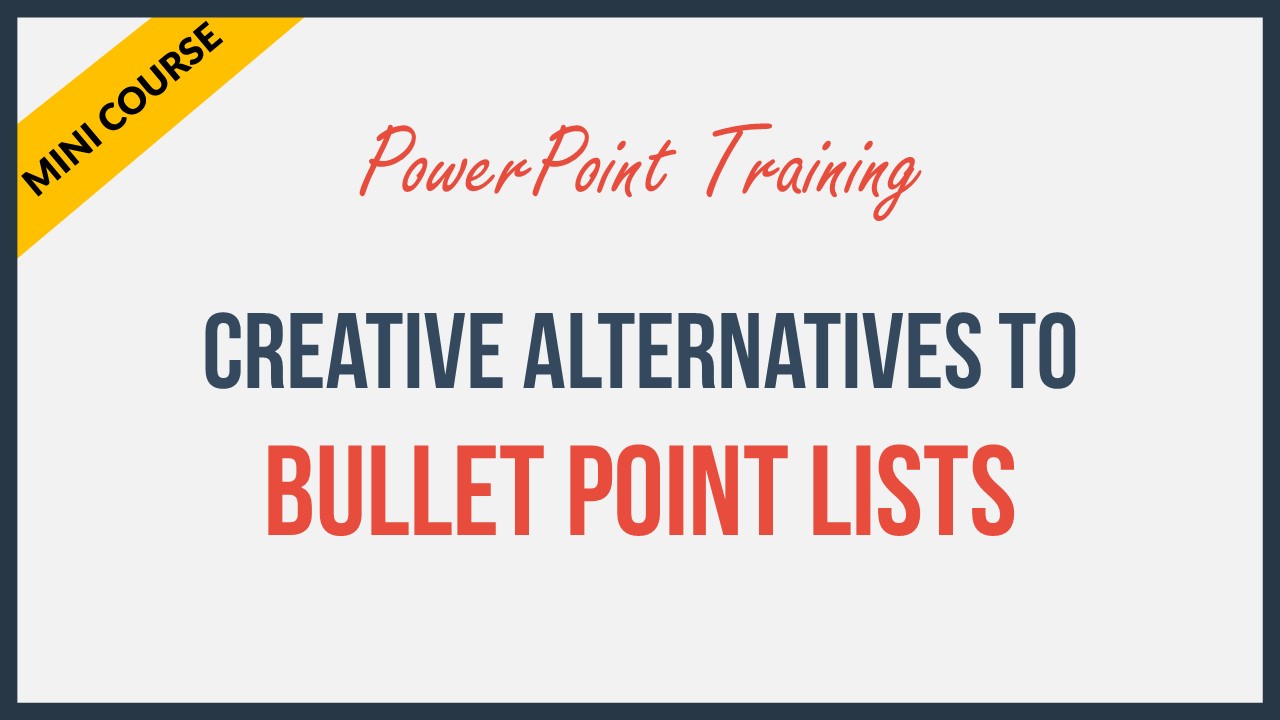 Creative Bullet Point Alternatives
Differenciate between real and pseudo lists and learn how to present Long and short lists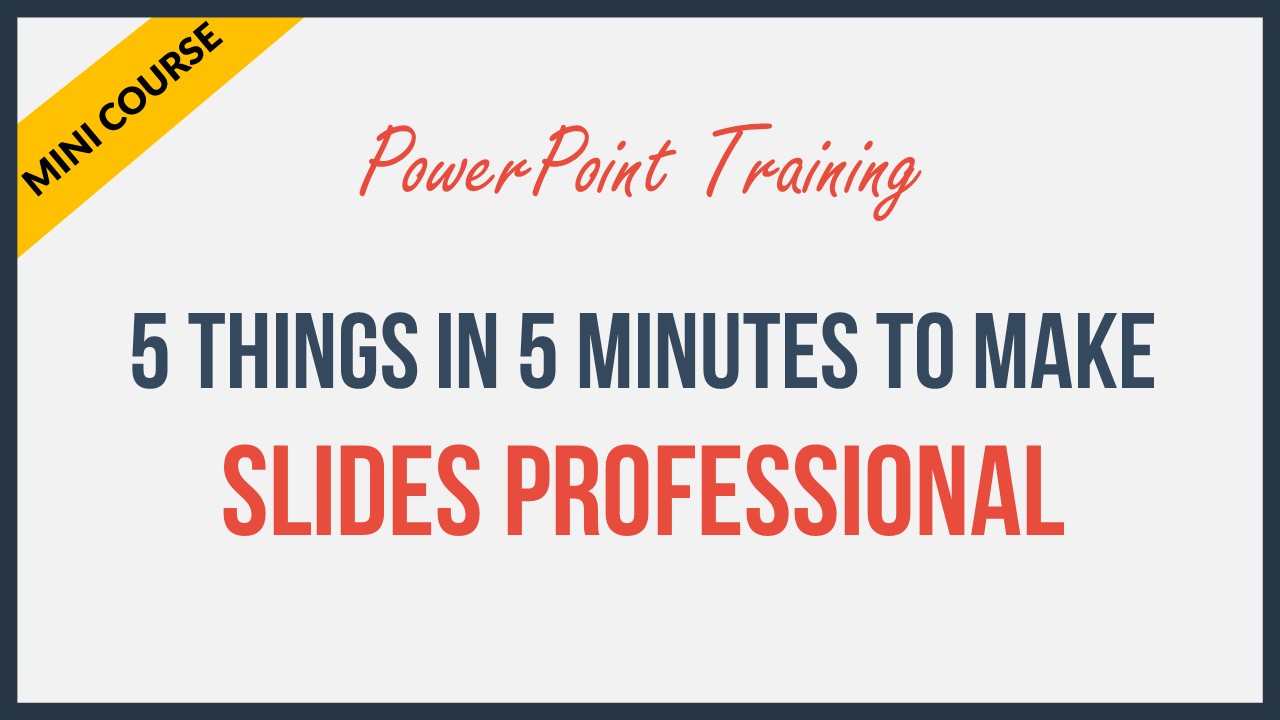 Quick Tips for Professional Slides
Quick & easy tips to format and present your slides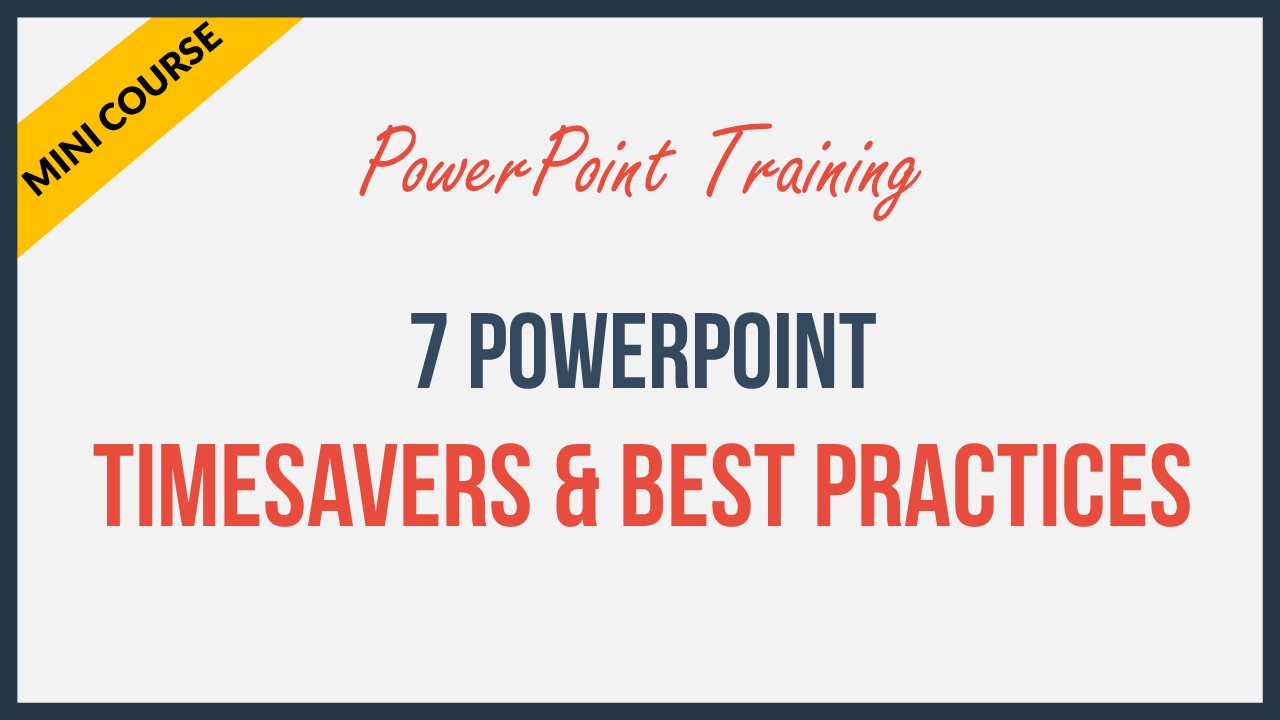 Save Time with 7 PPT Tips
Quick and easy set up and shortcuts you can use to work more efficiently with PowerPoint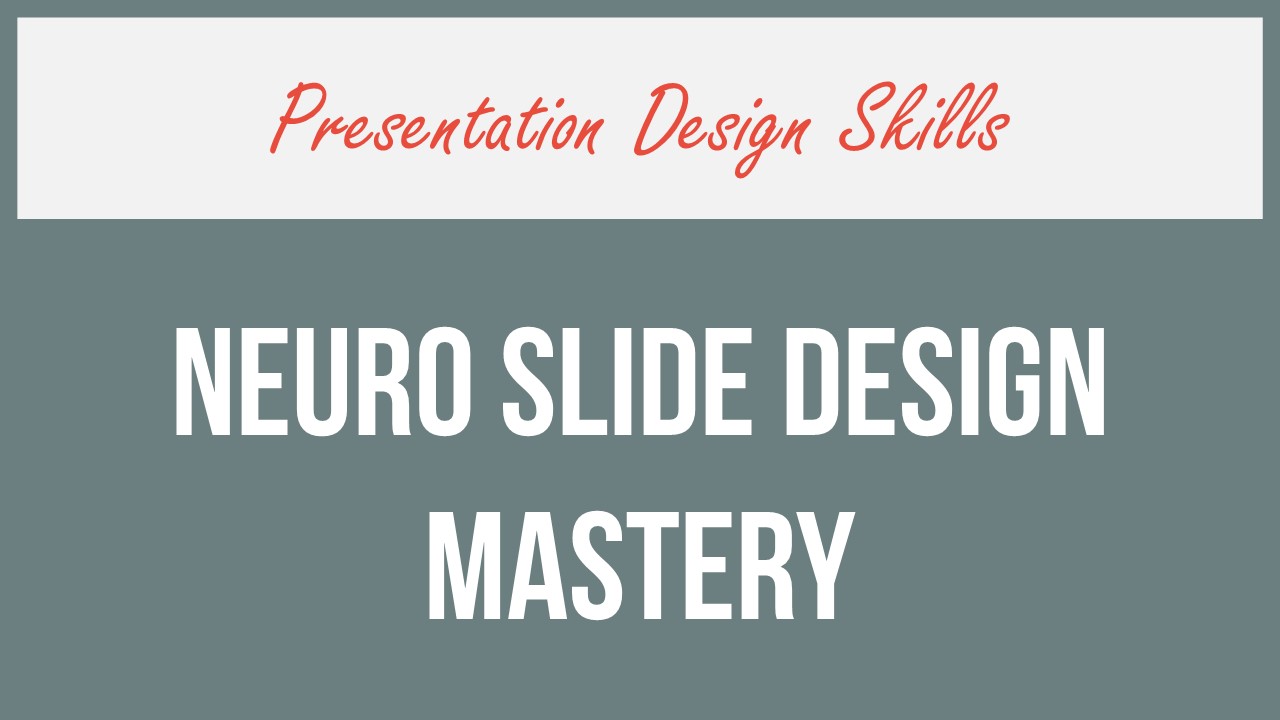 Neuro Slide Design Mastery
Learn how to approach structuring and designing your slides. Includes examples & exercises.
What our customers are saying:
"The lessons coverage is complete and the explanation is good and clear.
In the beginning the video folders are organized well with numbers and sub-numbers on the folders, especially Set Up Mastery. Easy to know which folder to study first if I want to have it in sequence or in proper order."
Michael Romero, Manager, Coal Mining
Access Immediately after purchase | 30 Days Money-Back Guarantee*
What you will get when you sign up: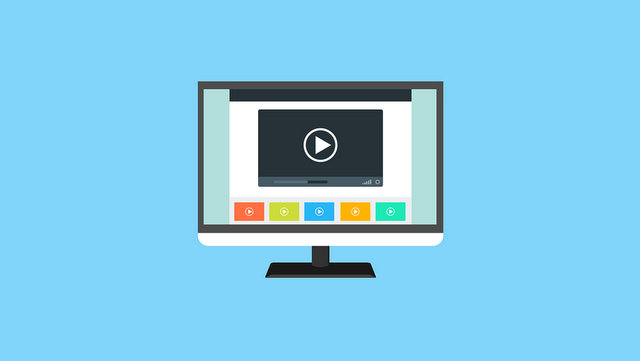 Contents of Course:
> Step by step screencast videos
> Download PPT work files
> Resources & PDF files
> Certificate of Completion for each course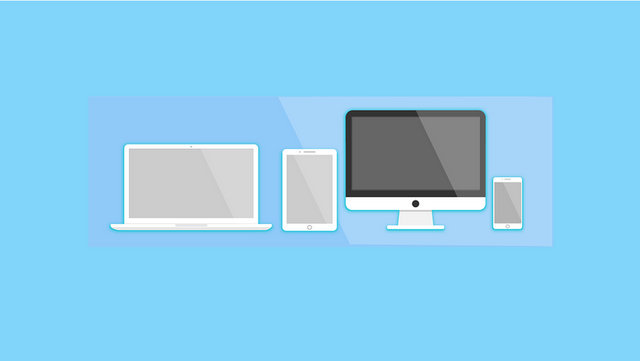 Course Access:
> Online/ Virtual on Desktop/ Laptop/ Tab or Mobile Device


> Suitable for: Beginner to Advanced Users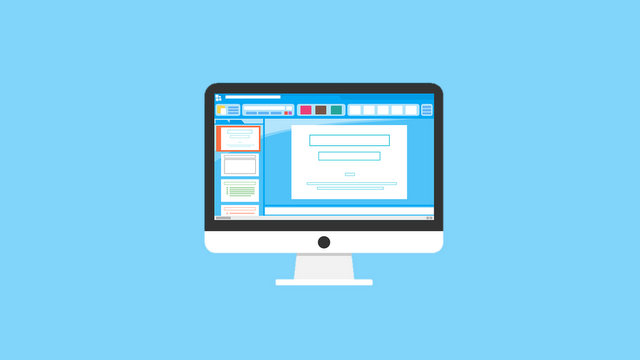 Software used:
> Videos have been recorded in in PowerPoint 2013, 2016, & Office 365.


> Follow along with any version of PowerPoint
What our customers are saying:
FOR EXPERIENCED USERS TOO
"Mr. Ramgopal has designed an extremely useful course not only for beginners but also for experienced PowerPoint users and trainers. The PowerPoint Mastery Program is well structured and covers almost all the topics to master PowerPoint. I have been working on PowerPoint for almost 15 years but still there are lots of things to learn from fantastic course."
Rajshekhar Chavan, Founder, Dataedge
***


HELPED ME BE MORE EFFICIENT
" What I like: Tips, tricks and hacks that are not available in any PPT course or training program.The training has helped me: To be more efficient and professional.Thank you for this course, I have been looking for a long time for this type of PPT course."
Azlan Mohd. Z, Education Industry
***
SO EASY TO REVIEW THE VIDEOS
"Ramgopal has for sure figured out the way to get those interested in PowerPoint, to find him.
I appreciated his generosity in sharing all the free PowerPoint material on YouTube. I had reviewed many videos there.
I kept going back and kept learning things I had never seen done in PowerPoint. Then I wanted it all, so I signed up for the Mastery Program. Loved it.
The Training is nothing like anything I had participated in before.
It's just so easy to review the videos on one screen and have PowerPoint open in another screen.
At times I felt so foolish that I had not explored PowerPoint over the years to know of tools and methods that have existed in many versions of the software.
It's a remarkable experience to be trained ON the program (PowerPoint) you're trying to learn, BY the same program. The materials and tutorials just keep proving themselves as you go alone. Which just reconfirms you're learning a great program and doing it in the most effective way."
Craig C., Software Consultant/CRM
***


HELPS MY AUDIENCE LEARN
"Ram has unknowingly become a mentor in how to give an effective presentation. His presentation skills are top tier and to be emulated. I have applied those lessons to my own presentations, which has translated to much smoother shows and that helps the audience learn more about my subject matter."
William Crisp. , SAIC
***
WORTH EVERY PENNY
"I am a project manager/program manager, managing multiple projects for multiple customers, I need to keep the information I am providing, interesting and informative on a weekly basis, your training and inspirational slides, colours, templates etc are invaluable and worth every penny.
I have also bought other products from you and these have allowed me to be creative to make bespoke slides which are very much enjoyed by my audience. Thank you so much.
Your support has been very responsive and helpful, I was shocked to receive such personal support in a world where things are now so impersonal."
Olivia Greengrass
, 
UK IT Project Manager, Ingram Micro
***
BITE SIZED LESSONS
Clear explanations on every aspect of PowerPoint. Each lesson is bite sized.
My presentations are more interesting and require less time to create.
Larry L Fisackerly, Owner eInsurancePlace/insurance Industry


WON ME A PROMOTION!
Your presentation slides won me a promotion at my job which is why I subscribed to study and learn more about the slides. You are doing a great job. I am impressed with your work!
Muhamud W, Kenya


WORKSHEETS & CHEATSHEETS
Excellent coverage of the concepts and features within PowerPoint. The segments for working with each function covered are grouped together and many are accompanied by worksheets and cheatsheets.


I've also learned some key aspects of slide presentations that can help me avoid viewer distraction, color distraction, and how to use certain techniques to enhance the slides.
Bill.GREEN, W.O. Green Corporate Services LLC


SIMPLE THINGS I CAN QUICKLY INCORPORATE IN MY PRESENTATIONS
The key factors that made me want to take this program:
- The content and its structure
- Content Delivery
- Concise and yet complete
- The tips and tricks shared
I now see how simple things can help improve the presentation and how quick it is to incorporate them into my presentations. There is a lot more ahead for me to learn and I look forward to it.
The only challenge that I have faced thus far has been the time out when listening to videos and then having to sign back in.
I truly appreciate the effort that has gone into the making of this training and it makes me look forward to learn more.
Raghu Natesan, Director - Xalence Human Capital Management Solutions Pvt. Ltd


IMPROVED MY PRESENTATION SKILLS
Wonderful training program. Very clear instructions. Really improved my presentation skills
Dr. Raveen Hanwella, Faculty of Medicine


I LOVE IT
This program is the work of a genius, easy to use and has an incredible result. I love it... I will tell everyone I know that use PowerPoint!
Titus Warren


EMPHASIS ON MESSAGE CLARITY
Covered everything and assumed nothing. Very comprehensive with a lot of emphasis on design skills and message clarity.
Better slides lead to a better student experience.
Andrew Pope, UK


FRESH POWERPOINT STUFF
It offers fresh ppt stuff. Very quick & user friendly material.
Hemant Kanade, DGM-Mahindra & Mahindra Ltd.


LEARNT HOW TO BE FASTER & MORE EFFICIENT IN PRESENTATIONS
I am using some of the ideas I am learning and I am sure I will use more tips as I go on. Also I have learnt some important things that will allow me to be faster and more efficient when i prepare my presentations
Since I have experience with powerpoint some of the first videos were too basic but even in those there were small valuable things that I did not know . This comment is by no means a criticism because I understand that you have to cover a wide range of students with different levels of expertise.
Overall, I am very happy so far but I will give more feedback after I watch all the videos
Nikolaos Pandis, Healthcare Industry


MY PRESENTATIONS ARE MORE INTERESTING TO THE AUDIENCE!
What I liked:
1. Content
2. Lucid explanation
3. Good Downloadable resources
4. Technique to do business presentations.
I have learned many new techniques...became good at SmartArt and 3D
Understood the way to use animations. As a result my presentations are becoming interesting to the audience. 
Nilesh Joglekar, Manager, India


RESOURCE I TRUST TO PROVIDE THE EXACT INFORMATION I NEED
Clear and concise explaining of basic and advance concepts even though some I already knew. Reduced the fear of trying new things in PowerPoint as I now have a resource that I trust will provide the exact information that I need therefore eliminating time spent searching for a trusted source on the internet.
David Gibson, Education Industry


WELL WORTH THE COST
Thanks. It is a great membership and well worth the cost. Thanks to what I learned, I'm an expert in adapting these slides to my needs.
You both have taught me so much.
Helene Rider


GOOD VALUE FOR MONEY
The explanations given and the examples used by Ramgopal in the presentations are unmatched. I like very much the receipt of the regular mails with news and ideas regarding PowerPoint from Arte.
I am very positive about the course and find that it gives good value for money and will certainly recommend it to colleagues and friends.
Klaus. H. Banedanmark/State owned/Railway
Opened mind to possibilities of PowerPoint
Denis Imonje, Chief Curiosity Officer, Kesa


***
COMPREHENSIVE PROGRAM
The program is comprehensive. I have just started and not even halfway through. The contents are great and easy to follow.
Irvin Hoh


***
PLEASURE TO LEARN
The best training program I have had. Ramgopal makes it a pleasure to learn and watch. Very engaging and makes it so simple and explains very well. I am glad I have taken this course.
Hemant Damani, Business Relationship Manager, Aptiv


***


RECOMMENDED TO ME
I have just started using this program. It was recommended to me by a co worker who uses your programs extensively and speak highly of the way you teach
Lana Taylor, V.P., ST21
***
Located in India? You can now purchase directly in INR: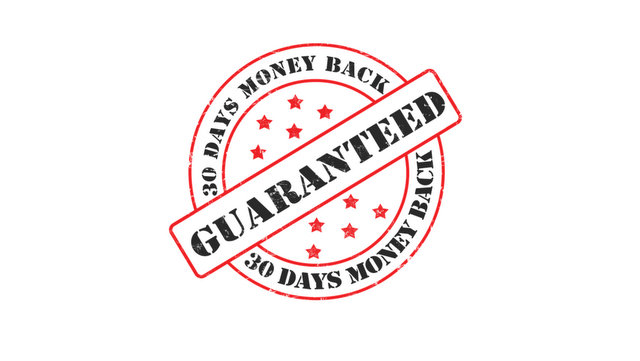 30 Days Risk Free Money-Back Guarantee
Try this online course risk free for 30 days. If you are not 100% satisfied with your purchase, within 30 days from the purchase date, we will fully refund the cost of your order. No questions asked.
In case of Installment payment or Monthly Subscription, this applies to the first month of purchase only.
Ramgopal
Note: All prices are in USD. Additional taxes may be applied as per your country.




Have a question or need some help? Contact us