Create Medical Slides You Feel Proud to Present Using the Breakthrough Slide Design System created using proven Brain research principles
MEDICAL PRESENTATIONS BUNDLE:
Bundle of 900 PPT Templates + Training Programs + Resources
Watch Video Below to Know About Medical Bundle
Convert your boring text-based slides, blog articles or research papers into clear & beautiful visual slides - even if you have zero Design skills, zero PowerPoint skills & very little time - using our '4-step Neuro Slide Design System for Medical Presentations'
Suitable for: Doctors | Nurses | Consultants| Researchers | Professors & Academicians | Healthcare 
What our customers are saying:
"This course is the one I have been looking for many years. Thank you so much, Ramgopal. I will redesign my existing anatomy slides by following your steps and suggestions. I believe I could engage my students by using powerful visually engaging slides. Your explanations and illustrations are easy to follow.
Arte, thanks also for PPT templates, visual assets, and also for Masterclass. I will definitely attend this class later . "
Eugenie Thwin, Senior Lecturer, Bioscience Dept.,
Verified Purchase.
What you will get when you sign up today: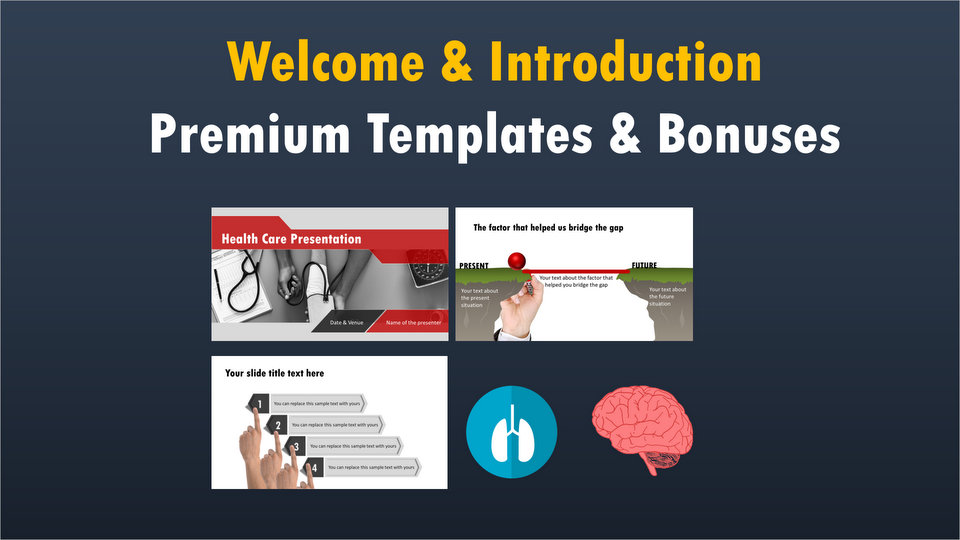 PowerPoint Templates+ Bonuses
900 Editable PowerPoint Templates
Bonus: 300+ Medical Icons, 150+ Illustrations, 170+ Photos & 150+ Useful Silhouettes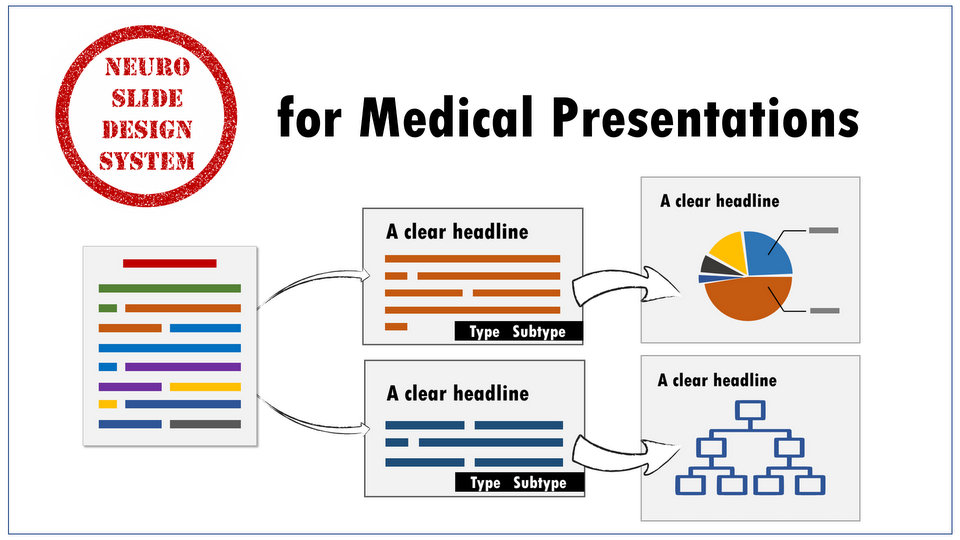 4-Step Neuro Slide Design Training
Step by step training with specific examples to help you make your Medical slides visuals - fast. [Length : 3 Hours]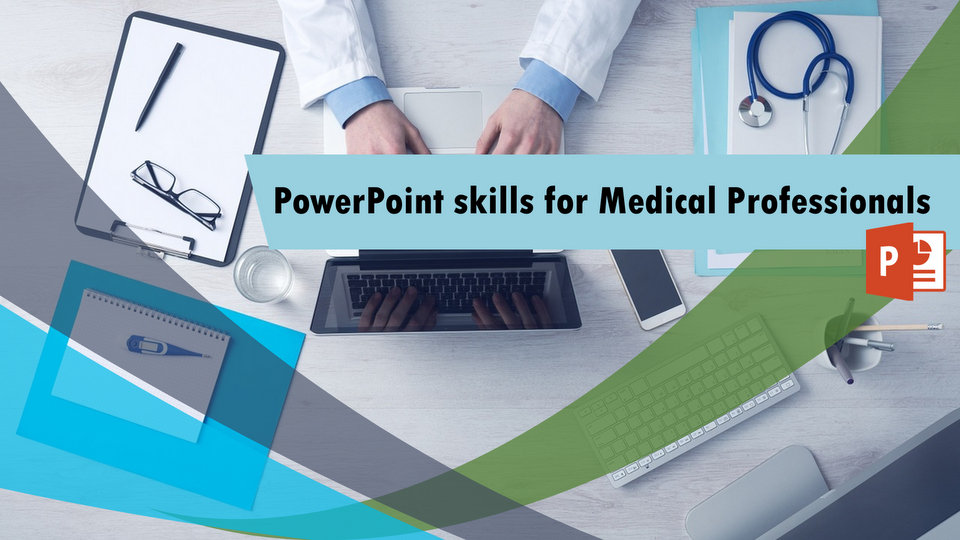 14 Essential PowerPoint Skills
Essential PowerPoint skills for Medical Professionals to design and makeover slides. [Length :1 Hour]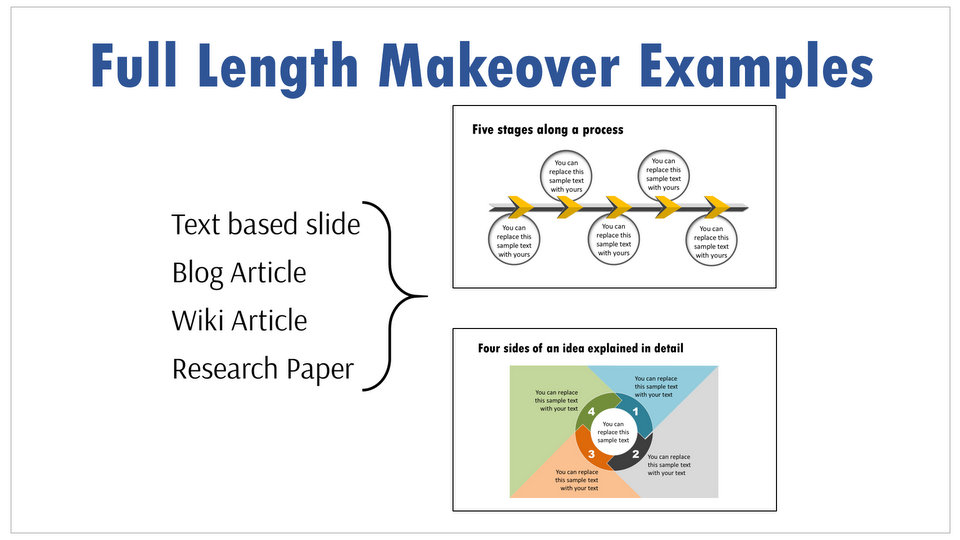 Full Length Makeover Examples
Full length examples of how to makeovers blog posts, documents, research papers. [Length :1 Hour]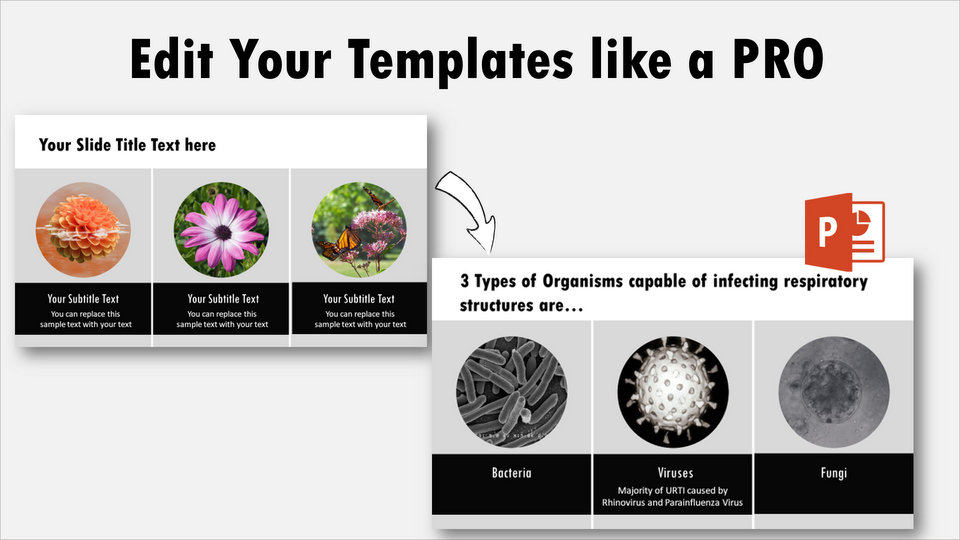 Edit Your Templates like a PRO
Step by step videos on how to customize your templates easily and quickly. [Length : 2 Hours 15 Mins]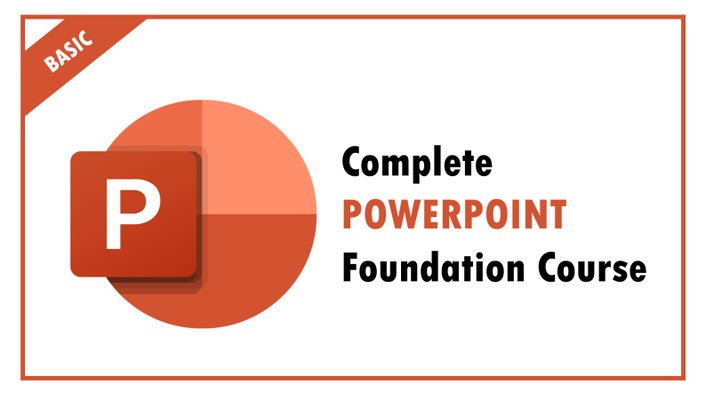 BONUS: Foundation Course
Get access to complete video tutorials to master all PowerPoint basics.[Length :13 Hours 30 Mins]

Preview of Medical PowerPoint Templates
Integrated With Neuro Slide Design Program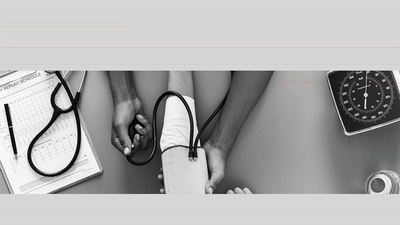 Editable Title Slides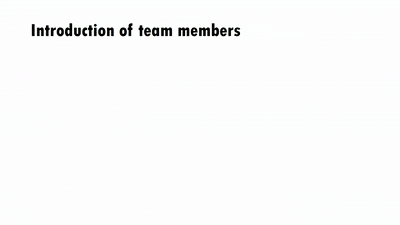 Introduction to Team Members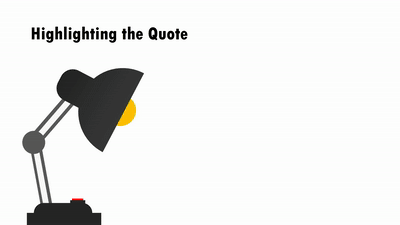 Animated Contact Us Slide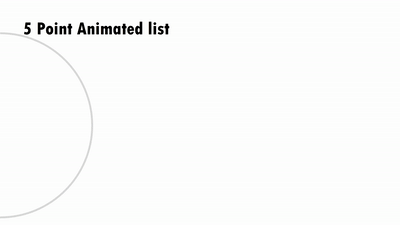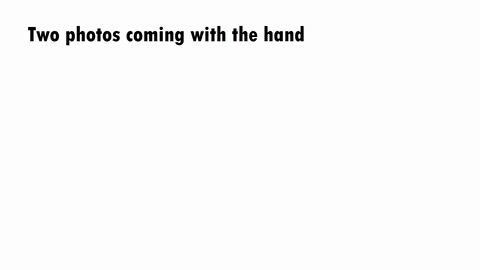 Hand Animations for photos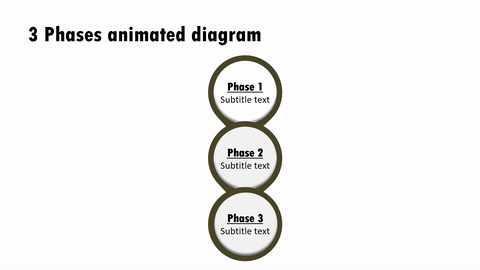 Use this area for description text.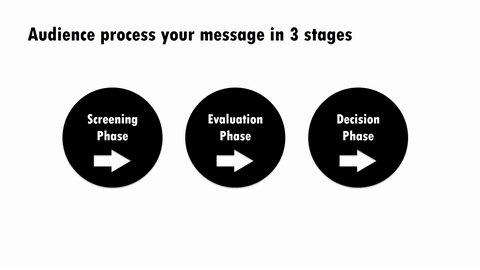 Use this area for description text.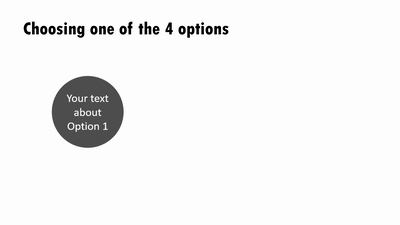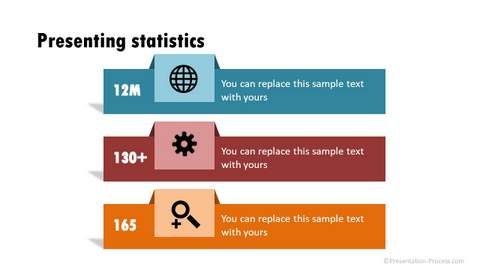 Data Driven Charts & Infographics
Download all 900+ PowerPoint Templates + Training & Bonuses for Medical Presentations...
What is 'Neuro Slide Design System for Medical Professionals'?
It's a simple 4-stage system based on the latest brain science principles – to help you create clear, visual and beautiful medical slides out of your current text-based slides, blog articles or research papers, even if you have zero design skills, zero PowerPoint skills and very little time.
It is easy to makeover your Medical Slides...
You start with text-based slides, blog articles or research papers. Apply the 4 steps - and get clear, visual slides… complete with professional custom animation and speaker notes.
You just need to pick up the deck, present it in the conference room and watch your audience hang on to every word you say. 
Designing top notch medical slides has never been simpler or quicker...
What Other Medical Presenters are Saying:
A Complete Doctor's Bag of Goodies...
"A Complete Doctor's Bag of Goodies...
I am a practicing Ophthalmologist in South India.
I am a past President of The All India Ophthalmological Society, the largest Life member society of Eye doctors in the world.
Recently I had occasion to beta test a new product from them exclusively tailored for the medical profession.
I found it to be a complete Doctor's bag of goodies containing every tool required to make outstanding and eye-catching presentations in the shortest possible time with minimum knowledge of computers.
Additional resources provided along with this from pre-formatted slides for every eventuality to specialty specific templates makes the art of slide making reduced to an almost a 'cut and paste' job.
The high-quality anatomic drawings, illustrations, silhouettes etc mean this is a "ONE STOP SHOP" for every busy medical practitioner and even a novice slide maker to create those memorable "show me more presentations".
This release by Ramgopal will initiate many more doctors to personally venture into this thrilling and very challenging field of slide making for their presentations and teaching materials."
Dr. BABU RAJENDRAN // Ophthalmologist
What Other Medical Presenters are Saying:
Will transform your skills...
Will transform your skills...
"I have been a medical teacher for the past 27 years and I teach undergraduates and postgraduates in medicine and other related specialties. 
I am pleased to give my testimonial after beta testing the Neuro Slide Design System for Medical Presenters.
Even with thousands of hours of lecture time I was not happy with the clarity of my lectures. I could also see that the lectures of my colleagues were dull boring and text heavy. I started reading on the subject. However, a practical program on how exactly to go about creating effective PowerPoint presentations was hard to come by.
Then I came across Arte and Ram's PowerPoint Mastery program which I followed for a while until I mastered the basics. I am so pleased that they have now decided to launch a program specifically for medical presentations.
Having tested the program, I can definitely recommend it to all my medical colleagues out there who want to improve their presentation skills. In fact, I would say rather than merely improve, it will transform your lecturing skills and vastly improve your impact as a teacher.
Go ahead and try it out. I am sure you will not regret your decision."
Dr. RAVEEN HANWELLA // Chair Professor of Psychiatry in the Faculty of Medicine, University of Colombo
***
Material follows logical sequence, connects & builds
"The Neuro Slide Design training material is very good and follows a logical sequence. The material connects and builds on the steps detailed earlier. The practice exercises provided at the end of each step are quite helpful.
The How to Customize Your Templates section is invaluable, as you show examples of how to reduce or increase the number of items on a template to help individualize the presentation.


The PowerPoint templates provided as part of the program would be useful for a wide range of audiences as the concepts are applicable across many disciplines. It is quite easy to navigate the templates because of the way they are organized logically. "
Dr. NIKOLAOS PANDIS // Orthodontist & Medical Professional
***


Beautiful professional Medical Templates..
"I work at a university with a group of researchers. It has been so exciting to work through Ramgopal's Neuro Slide Design System. It makes creating professional looking high impact medical slides fun and easy.


Ramgopal provides beautiful professional medical templates that can be edited according to your needs. They come with clear training videos to walk you through exactly what you have to do to make ace professional presentations in a fraction of the time it would take if you tried to do it from scratch.
The training materials are very comprehensive and user friendly.


The Neuro Slide Design System is logical. You create and classify slides following the guidelines, and with Ramgopal's templates, those slides are transformed into a visual format. A picture speaks a thousand words!


I can highly recommend the Neuro Slide Design System to anyone who is giving or planning to give medical presentations. Ramgopal and Arte understand the challenges and issues faced by medical presenters inside out and have put together an amazing tool to help you create professional looking visual slides that will stand out, keep your audience focused and get your message across effectively."
RACHEL  // Research Assistant, University of Basel
***
Very Intuitive & Easy to Learn
"My name is Dr. Balaji. I am a research scientist and a University Professor. I work in the interface of chemistry and biology. Our main research area is on the development of new tools and techniques for the theranostics treatment modalities for cancer and related diseases.
The program was very intuitive and easy to learn. The best part was the seamless integration of the four basic principles of Neuro Slide Design System into templates.
The tailor-made design templates were so helpful that now I do not need to spend hours on creating my own templates. The colouring schemes, the aesthetics, the uniformity and proportionality in placing the objects and texts in the slides are the best part.
As a medical presenter, the training and resources were highly useful. I could learn many cool tricks and now I am very confident to say that, I can easily put my views and ideas in a concise manner which can be easily assimilated by the audience.
It made my life a lot easier and I can now focus more on my research planning than on my presentations."
Dr. BALAJI // Research Scientist & University Professor
*Verified Purchase
I had came to know many new points . It is very knowledgeable course where every doctor should be trained to use ppt.
Medical resouces are smooth to download. Ready to use and absolutely helpfull
Venugopal Sambharam, Orthopaedic Surgeon
*Verified Purchase




It was wow. Never really thought it could be simple had I not enrolled in it! Always wondered as to how professionals like Pharma company made ppts in a great way. But now I understood that it's more a skill.
Nikhil Kulkarni, Consultant Neonatologist, Rainbow Children's hospital
*Verified Purchase


Learned so many things eventhough I thought I knew most of the tricks in PowerPoint. Very useful!
Already used some of the pictures and icons to make my perentations look even more professional
Eva Clausson, Sweden
*Verified Purchase


Very interesting concept and powerful powerpoint template slides. About Medical Resouces, all very good and of extreme high quality
Jose Vidal, Head Trainer, Grupo DRV Phytolab SL
*Verified Purchase


The Neuro slide design course for medical professionals is one of the best trainings I've gone through. The analogies to teach about cognitive overload were beautiful. The teaching is really nice...clear, beautifully sequenced, the right sized chunks.


I watch the videos to understand the content, then I go back and watch from a pedagogy approach - watching/listening to how Ramgopal teaches so I can model some of my presentations on his. We might have very different audiences and content, but I'm getting lots of ideas of how to apply to my students.
Kevin Littler, Australia
*Verified Purchase
I am extremely happy with this course. I recommend it for every doctor to go ahead for it. I am sure they find themselves at different level after the course. In short, the course worth the subscription fee. 
Now I find my self at different caliber to approach Medical Presentation. Thank you so much Arte and Ramgopal for such an awesome course.
Dr. Tariq Ahmad, HSE Ireland
*Verified Purchase
The training on neuro slide design is particularly useful, and the slides templates save a lot of time. The course is really worth. I strongly recommend.
EWERTON SOUZA, UNIVERSITY OF BRASÍLIA
*Verified Purchase
Medical Presenters using our templates include:
This Medical Bundle is for all types of Medical Presenters:
>Physicians, Pathologists, Surgeons & Therapists
>Professors and Lecturers of Medicine
>Nurses and Home Health Aides
> Medical and Nursing Assistants
>Medical technicians
> Informatics, Admin & Management teams
> Hygienists and Wellness experts
> Health and Safety Specialists
> Pharma companies
> Specialists & researchers in fields like Microbiology, Genetics, Medical Technology etc.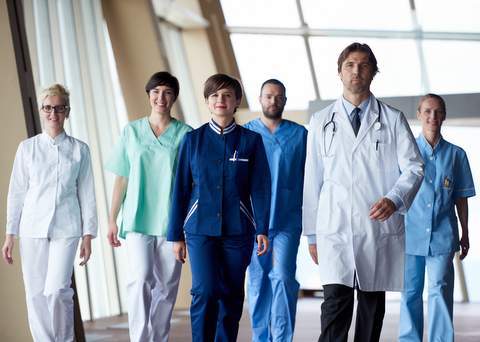 What you will get when you sign up today:
Lifetime Access to Following Training Programs
4-Step Neuro Slide Design Training to help you make your Medical slides visuals - fast.
14 Essential PowerPoint Skills for Medical Professionals 
How to Edit PowerPoint Templates like a PRO 
BONUS: Complete PowerPoint Foundation Course
Download Templates & Additional Resources
900+ Medical PowerPoint Templates
300+ Medical Icons, 150+ Illustrations, 170+ Photos & 150+ Useful Silhouettes
List of resources for Medical Presentations
Full length Makeovers, exercises & examples.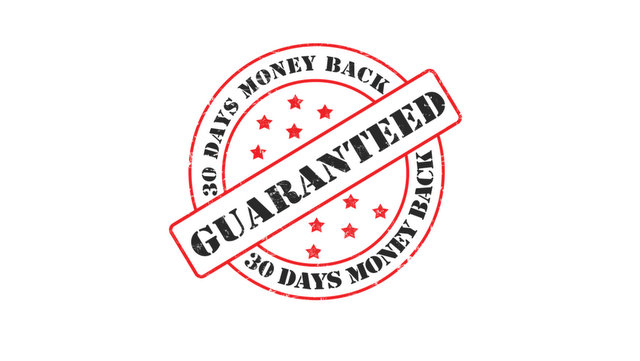 Risk Free 30 Day Money Back Guarantee
Try the templates and training risk free for 30 days and if you are not satisfied with the results you get, just send us a message and we'll refund your money, no questions asked.
Ramgopal
Disclosure: The product being reviewed was provided to the reviewer in exchange of an honest review. All thoughts and opinions expressed are of the reviewer and not influenced by the company in any way. No compensation was provided in exchange for writing the testimonial.