What is covered in this course:
30 Day Money Back Guarantee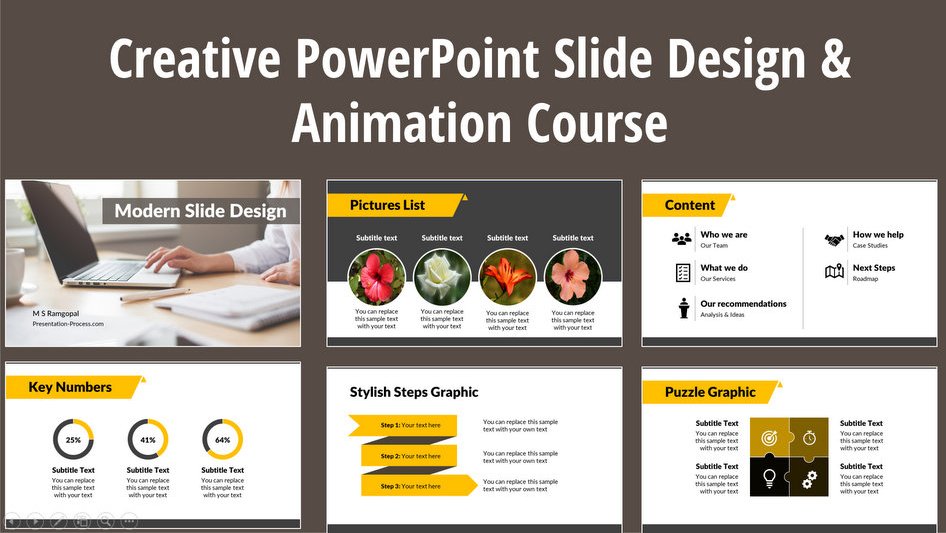 In this course:
Design 25 Practical & Visual slides from scratch including timelines, process flows, org charts etc.
Create a modern and stylish looking PowerPoint slide deck complete with professional animation
Discover sites that offer free, yet professional design assets like icons, photos, fonts etc.
Save time and improve your workflow efficiency with PowerPoint tips and shortcuts
What Students Are Saying about this Course:


Update: I completed this course and this has been the best course I have taken so far. The teaching style is so engaging I could not but finish the course. I am also considering signing up for his Mastery course. I used to shy away from PPT's earlier and now I look forward to creating some cool slides!! Thanks Ramgopal awesome job!!
~Merchant


So far, it has lived up to its promise: not to teach the menu items of Powerpoint, but to focus instead on how to create the kinds of slides I'll need. Clear! Simple! Well done!
~Doug Lipman


Highly recommend for anyone who has some experienced with PPT and is looking Yo improve their slides within a short period of time. I am really impressed about how this course took my to an entirely different level of building PPT in such a short period of time, that would have been no way for me to achieve without it. On my first PPT subsequent to taking this course, I already get high complement from an experienced PM. He literally said "The slides are so simple yet clear and professional that they got stuck into his mind and he couldn't get his mind out of it!".
~Sheila Ho


Loving this course and instructor. The technique of teaching what types of specifics and why to use certain items before diving into the hands on technical stuff is awesome. I love knowing WHY I need to do something before learning HOW to do it. Thumbs Up!
~Michael Ratcliff


Thanks to Ramgopal and Udemy for bringing this course. I have been using power point for last 5 years for doing simple office presentation. But I always apprehension about the powerpoint that it is not user friendly and it takes hell amount of time to design slide. I did take couple of courses at my office but didn't help much. But this course is really game changer. Now I have started loving powerpoint, simple techniques by Ramgopal makes this course worth, wish I had known this earlier. Thanks a ton.
~Ganesh Guptha Govindarajulu


About the Course:


I am Ramgopal, and I've spent more than 15 years of my life designing high stakes presentations for clients across industries.
I spent years teaching senior managers, trainers, business owners and consultants on how to present their ideas with impact. I designed over 7000 premium PowerPoint templates that are now used by thousands of happy customers across the world.


What is in this course?


In this course, I share the PowerPoint tricks and techniques I discovered and developed over the years. So, you too can design beautiful slides that impress your boss and colleagues.
This is a practical, hands on course with no fluff or theory.
Unlike courses that merely tell you how the different tools and buttons work - this course holds you by the hand and shows you how to work those tools to design professional looking slides fast.


All lessons are designed as step by step screencast videos that start from scratch. You will never miss a step. Plus, you will learn the logic behind each step, so you can improvise on the core techniques.


You will not only understand the key design principles that improve clarity of your slides, but will also pick up useful insider tips and tricks that experts use to save time and get professional results.
Each lesson is carefully planned to build on techniques learnt from previous lessons. So, you can see your skills improving at each stage as you progress through the course.


Additional Resources


You can download the work files for each lesson, so you can reverse engineer and learn even more. Of course, you can use these files as PowerPoint templates to design your future presentations and save time.
You'll also get to download a list of useful websites that offer Free Design assets like Fonts, Icons, Photos, Vector Images etc. to use in your presentations safely without worrying about copyright issues.
So, go ahead and enroll in this course - and let's start building our first professional looking slide deck right away.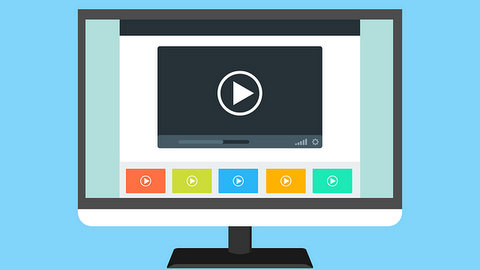 4 Hours of On-Demand Video
Lifetime Access to Videos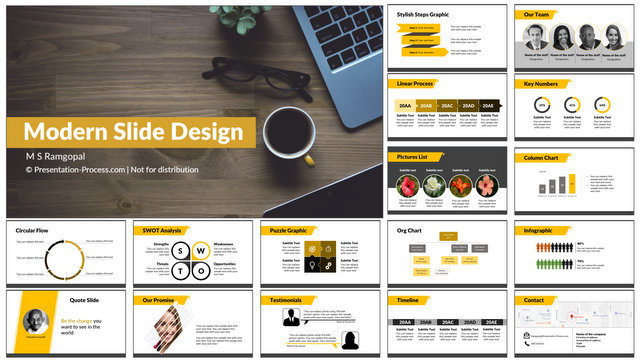 26 PowerPoint Slides Download
Additional Resources & links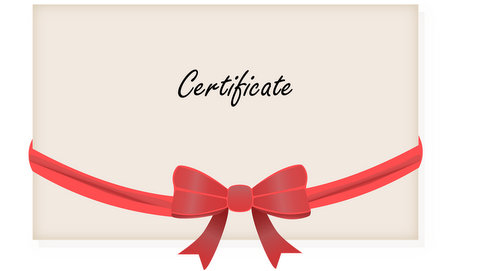 Certificate of Completion
Includes Assignments & Quiz