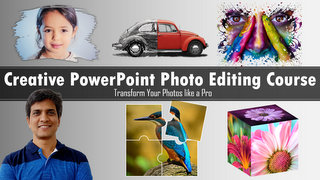 What you will learn:
Discover Photo Editing and Manipulation Tools in PowerPoint
Find how to edit creatively with your photos with just PowerPoint
Simple step by step tutorials so you can master photo editing even if you are a beginner
Photos will be provided for practice so you can follow along with the course.
About Creative PowerPoint Photo Editing Course

2.5 hours on-demand video

26 downloadable resources

Certificate of Completion
What is in this course?
PowerPoint is probably one of the most capable, easy to use, yet vastly underrated Photo Editors available today.
Sophisticated effects - that take many hours to create in complex and expensive photo editors - can be achieved easily with a couple clicks in PowerPoint.
In this course, you'll discover a whole bunch of such insider tricks and techniques that professional PowerPoint designers use - to design & present creative photos that wow the audience.
Whether it is cropping pictures into different shapes, removing complex backgrounds or layering photos to create stunning designs - you'll discover some surprising new capabilities of PowerPoint in these lessons.
In this course, you will: 
Find step by step video tutorials to manipulate your photos
Download the PowerPoint work files to follow along the video lessons
Practice what you learn with assignments
Find free resources to edit your photos fast and add creative effects .
What is different about this course:
Unlike courses that merely tell you how the different Picture tools work - this course holds you by the hand and shows you how to work those tools to design professional and creative photos fast.
It's a deep dive into PowerPoint to discover facets of Picture tools you've never imagined. 
This is a practical, hands on course with no fluff or theory.
How are the lessons structured:
All lessons are designed as step by step screencast videos that start from scratch. You will never miss a step. Plus, you will learn the logic behind each step, so you can improvise on the core techniques.
You'll not only learn what to do, but also learn what not to do – while working with Photos in PowerPoint. Tricks like 'How to make Photos transparent' or 'How to seamlessly merge text into photos' are not taught in any books or courses.
Each lesson in the course is carefully planned to build on techniques learnt from previous lessons. So, you can see your skills improving at each stage as you progress through the course.
Includes Practice Exercises & Additional Resources
You can download the PowerPoint work files for each lesson, so you can reverse engineer and learn even more. There are photos provided for practice in each lecture. Of course, you can use these files as PowerPoint templates to design your future presentations and save time.
There are assignments throughout the course to help you practice what you have learnt and get my feedback.
You'll also learn about free online resources where you can manipulate photos easily and make your photo slides even more creative!
If you are a beginner
In case you are a beginner PowerPoint user, there are extensive videos on Picture Tools basics included as part of this course. The sections are clearly marked as [Basics]
Finally, a word about me...
About the Instructor:
I am Ramgopal, and I've spent more than 15 years of my life designing high stakes presentations for clients across industries.
I spent years teaching senior managers, trainers, business owners and consultants on how to present their ideas with impact. I designed over 7000 premium PowerPoint templates that are now used by thousands of happy customers across the world.
So, go ahead and join the course - and let's start manipulating our first photo right away!