Complete Word Foundation Course


Design your documents, reports and more with Word easily with step-by-step tutorial videos.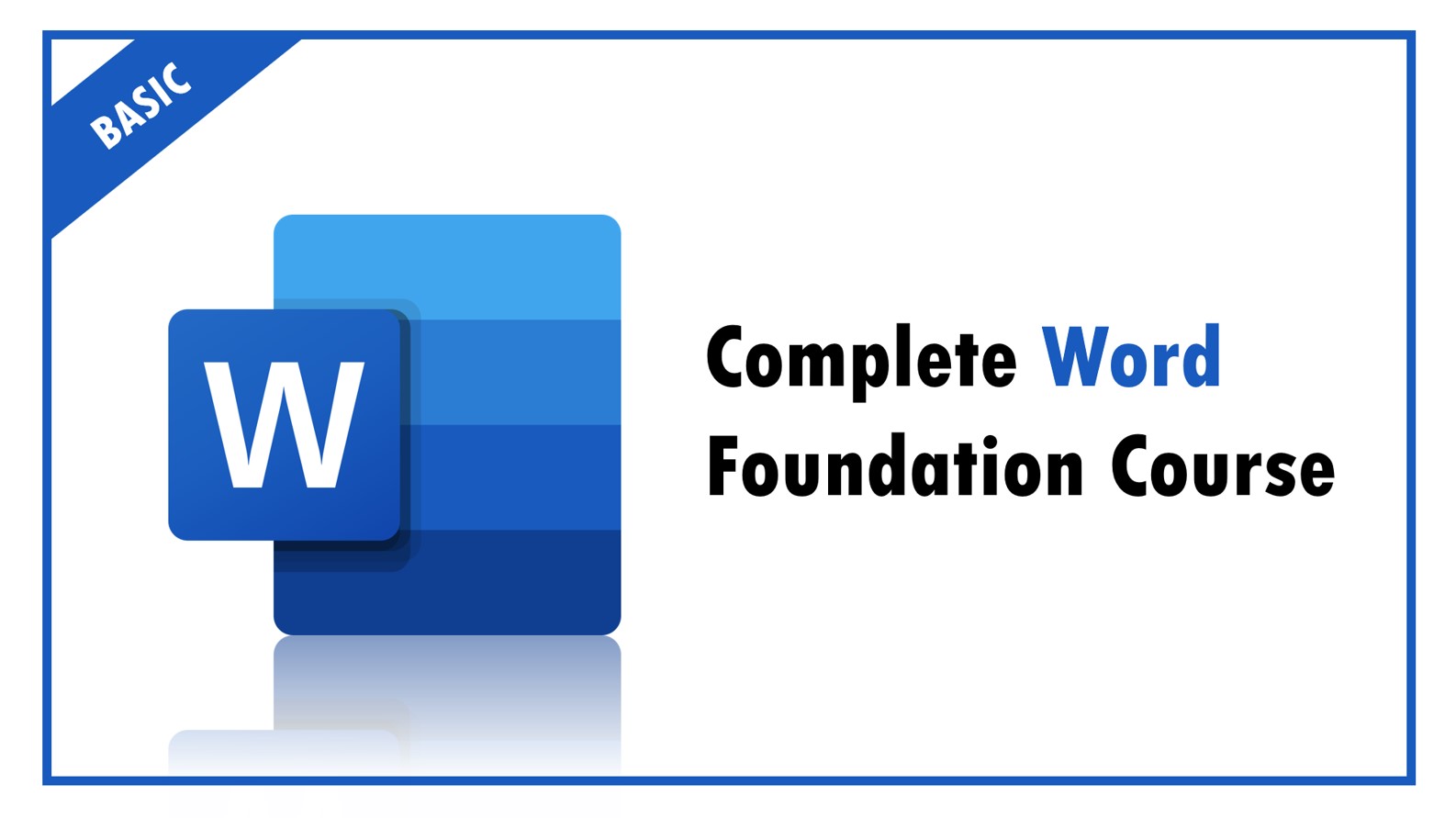 What this course covers:
8 hours of step by step Word tutorials
Practice Files to follow along the video lessons
Quizzes to review what you learn
Follow along with any recent version of Word.
Specific Word 365 features are clearly identified
Get started on this deep-dive course today.
30 Day Money Back Guarantee
What You will Find In This Course
Click to Watch Video Below
What Customers are saying about this course:
"The course definitely helps me in enhancing my skills"
Raman Rengan, Director, VELAN IT Solutions Private Limited




"Enhanced my knowledge on MS word significantly!!! Wonderful course, great teaching style"
Shivakumar Vakada




"Very useful it revealed lot of cool short cut functions"
Suresh Parambadil, Senior Planning Engineer, TOCO (The Oman Construction Company)


"Streamlining my communication"
Kushal Mital, Surgeon, Medicare Hospital
About Word Foundation Course:
MS Word is probably the most used, but least understood software there is.
Pretty much everyone knows how to open the program and start typing. But very few know how to use the program the right way to create professional looking documents.
The strange thing about MS Word is – it is super easy and intuitive to perform basic tasks in the program. But it's when you start go a bit deeper to do some serious work, you'll start seeing the ugly side of the program.
You'll find it exhausting to achieve consistent formatting of your long documents, because the tools are all over the place
While the professional documents you see use cool looking features like side bars, stylized quotes, automatic date stamps etc. you wonder where those tools are hidden
Most of the times, even simple tasks like replacing pictures in a readymade word template can test your tolerance levels.
That's why we created this program called "Complete MS Word Foundation Course".
It's a comprehensive 8-hour practical course on MS word that changes the way you'll work with the program forever.
No matter what you want to create… whether it's e-Books, Brochures, Resumes, Business plans, Reports, or any other document, you'll design them in style with the tricks and techniques taught in this course.
About the Course Creator:
I am Ramgopal, from Presentation-Process.com. I design graphics and documents for a living. I've been using MS Word extensively for the past 2 decades and in this course, I share all the little-known secrets of Word that I've been using over the years.
Why this Course:
The lessons in the course are applicable from 2013 version of Word till the latest Microsoft 365.
Talking about which, this is not just another course on MS Word that takes you through every tab, tool and button in the program till you're bored to tears.
This is a practical course that reveals tricks that most books or courses never talk about.
This program helps you discover the hidden capabilities of Word that turn your boring documents into clear and well-designed documents with just a few clicks.
You'll stop wasting time manually typing every element of your document and start using time saving features like Auto text and pre-designed and customized Building Blocks in Word.
You'll prevent typos by using Autocorrect the smart way
The course is comprehensive and thorough.
For example, …
While other courses or books may superficially breeze through a topic like Find and Replace tool, we've 7 video lessons on that topic alone to teach you tricks you'll never find anywhere else
While others treat tables in word as just another topic, we've 16 videos on the subject to explore tons of useful and less known capabilities of Tables
While other courses point you to a list of sites to scrounge around for keyboard shortcuts in Word, I'll show you how to let Word itself give you an exhaustive list of keyboard shortcuts in just 2 simple steps.
Inside the course, you'll find practical examples for every concept taught and multiple applications for every trick – so your learning is thorough and useful.
With more than 8 hours of practical video lessons, broken down into bite sized chunks to fit in with your busy schedule, this course can be a game changer if you use MS word to create your documents.
Please look at the detailed curriculum below that lists all the topics covered in the program.
Who is this Course for:
Whether you're a rank beginner or a seasoned user of the program, you'll find tips and tricks that'll change the way you'll work with Word.
There are a bunch of simple exercises and quizzes along the way to help you practice what is taught and strengthen your understanding.
The course is priced attractively, so it is accessible for everyone.
This course is available only on this website, and nowhere else.
So, go ahead and join the course right away to find whole new possibilities with MS Word, and to become the go to person for the program in your organization.